***Check Back For Updates***
UPDATE, 10/13, 2:30 pm:
The AP is reporting that a second fire has broken out above the San Fernando Valley, prompting mandatory evacuations:
Los Angeles County Fire Department Inspector Frank Garrido says the blaze is at five acres but is growing quickly near Browns Canyon Road a few miles north of Chatsworth.

Garrido does not know what started the blaze shortly after 10:30 a.m. Monday, a few miles west of the 3,700-acre brushfire that has been burning since early Sunday in the valley's northeast corner.

***
The AP reports that the wildfire is spreading closer and closer to Los Angeles:
LOS ANGELES -- Intense Santa Ana winds swept into Southern California Monday morning and whipped up a 3,000-acre wildfire, forcing the closure of a major freeway during rush hour and burning mobile homes and industrial buildings.

"This is what we feared the most," said Los Angeles County fire Capt. Mark Savage. "The winds that were expected, they have arrived."

The blaze, 20 miles north of downtown Los Angeles, began Sunday and was calm overnight, but flared up early Monday when winds gusting to 65 mph moved in.
Some eyewitness pictures of the fire, via Flickr: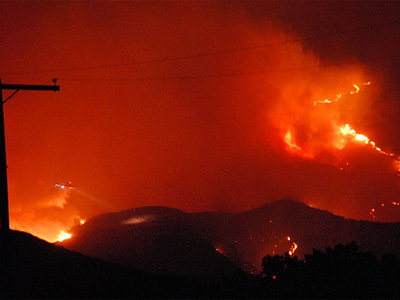 A helicopter rushes to drop water on a section of the fire at 4 am in the Angeles National Forest