The Republican National Committee press office has been foreshadowing a final week effort to highlight Barack Obama's ties to indicted landlord and Chicago insider Tony Rezko, and mailers hammering that theme began arriving at homes over the weekend.
The literature is packed with quotes and newspaper clippings -- a byproduct of a story whose relative complexity has made it difficult to use as a political attack. It makes the following allegations:
"Obama has used the hard-earned money of America's taxpayers to pay his cronies with political favors."
And: "Rezko, convicted just this year on federal charges of fraud for receiving kickbacks in a land deal has been an Obama friend and fundraiser for nearly 20 years."
FactCheck.org criticized a previous McCain campaign television ad that lobbed similar attacks, saying it was "careless with the facts and could easily leave a false impression." The group found that Obama "has a relationship with Rezko that dates back many years, but there's no indication Obama did anything improper."
Despite Obama acknowledging the political dangers of his ties to Rezko, the issue has not been a major headache for him either in the primary or the general election. Nevertheless, the GOP ticket is pushing the topic in the election's closing week, having released a web video that mirrors the message of the mailer.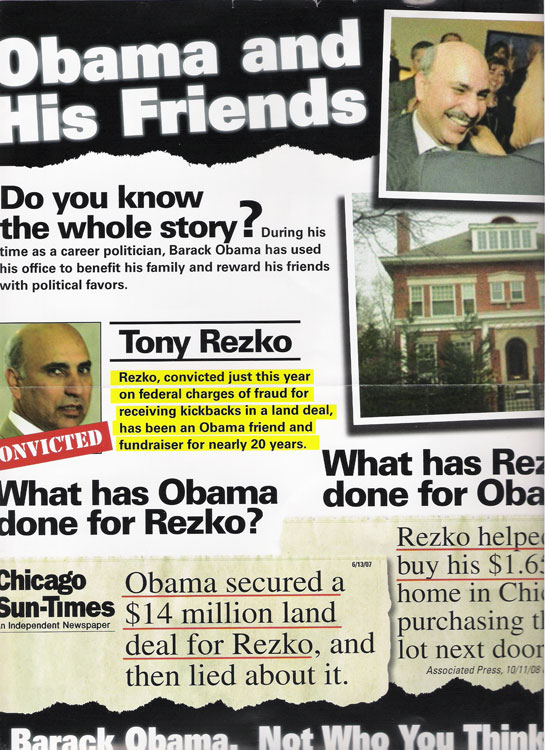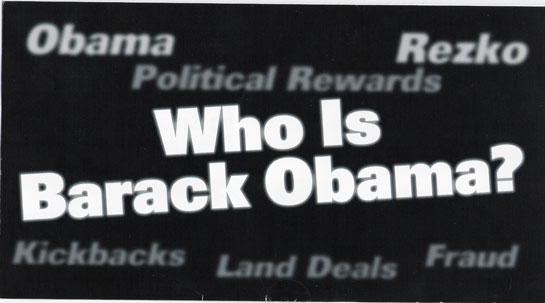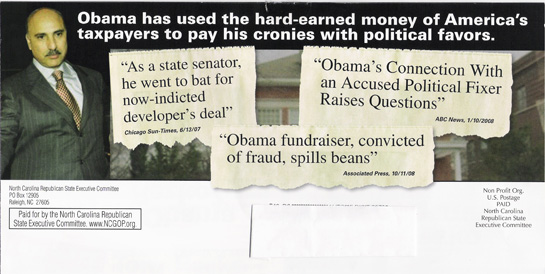 SUBSCRIBE AND FOLLOW
Get top stories and blog posts emailed to me each day. Newsletters may offer personalized content or advertisements.
Learn more