The Republican Party of Pennsylvania is sending out a flier that paints John McCain and Hillary Clinton as political allies, and presents the McCain-Palin ticket as the one to break the glass ceiling in which Clinton "left 18 million cracks."
The pamphlet, provided to the Huffington Post by a reader in the state, is the latest effort by the McCain campaign to play off any leftover schisms from the heated Democratic primary contest between Clinton and Barack Obama.
"It is safe to say Hillary Clinton does not approve this message," said Kathleen Strand, a spokesperson for the New York Senator. "She made history earning 18 million votes and has urged everyone who supported her to vote for Barack Obama because they have so much more in common with him than they do with Senator McCain. Voters should not be distracted by last minute, desperate attempts that claim otherwise."
Indeed, the GOP mailer makes it seem as if McCain and Clinton are of the same ideological mindset and share an opposition to Obama's candidacy.
Senator Hillary Clinton blazed a trail for future generations of women. She fought for working families, and she heard your voices. America needs a steady hand to guide out nation in a time of terrorist threats. Senator Clinton said, "...we need a solid plan to restore our economy, to create jobs, and to provide health care."

Most importantly, Senator Clinton knows how to reach across the aisle to solve problems. Both she and John McCain have shown the American people proven results, not pretty words.
The next page is even more explicit in its hopes of siphoning one-time Clinton supporters -- specifically females -- from Obama's pool of supporters. Written as a note from McCain, it reads:
Everywhere I go, I see that Senator Clinton inspired a whole generation of young Americans in this country. With my running mate, Governor Sarah Palin, I will make sure that Hillary's efforts are not forgotten.

I share Senator Clinton's goal of promoting women to more important roles throughout our government. By the end of my first term, I promise you will see a dramatic increase in the presence of women in every part of the government. You have my word on it.
For good measure, the pamphlet includes a quote from Sen. Joseph Biden praising Clinton as "more qualified than I am to be vice president of the United States of America."
Clinton voters have, by and large, migrated their way towards supporting Obama even if it took some time. But the bruises of the primary battle were most painful during the weeks leading up to Pennsylvania's election, with many working class whites souring on Obama because of his notorious bitter comments.
Over the course the general election, Clinton has worked tirelessly in turning around these sentiments. In the process she has leveled repeated charges that a vote for McCain would not represent an advancement of her cause, even with a female vice presidential candidate on the ticket.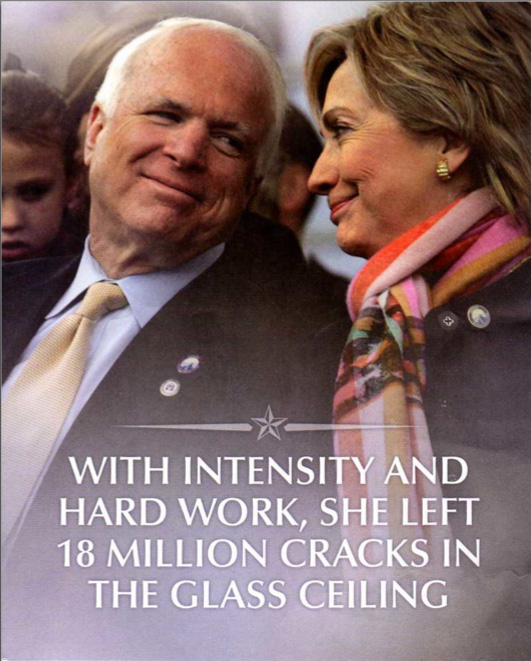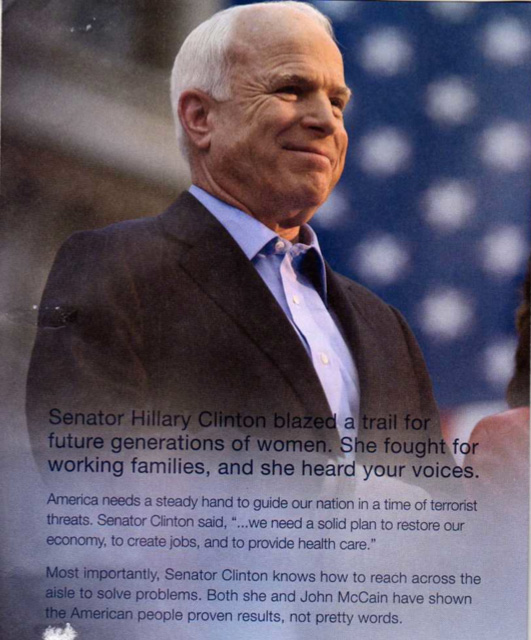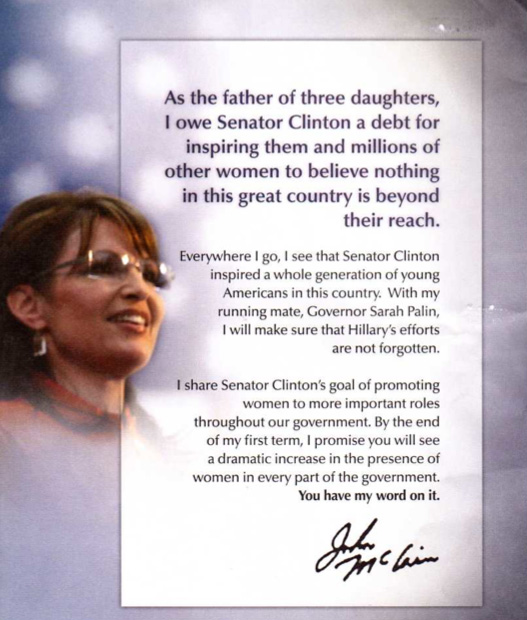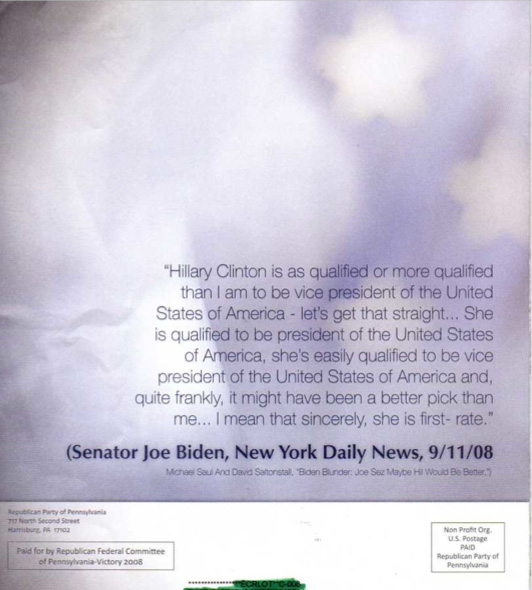 SUBSCRIBE TO & FOLLOW TRUMP'S FIRST 100 DAYS
How will Donald Trump's first 100 days impact YOU? Subscribe, choose the community that you most identify with or want to learn more about and we'll send you the news that matters most once a week throughout Trump's first 100 days in office. Learn more