***SEE UPDATE BELOW***
This could be a cheap (if elaborate) hoax, but bloggers in multiple states are posting cell phone photos of text messages urging Obama supporters to vote on Wednesday, November 5.
First reports of the false text message came from writers in Arizona and Texas. Meanwhile, the Huffington Post received another image from a source who said he received a similar text message in Illinois. [UPDATE: Another reader in Georgia chimes in with an indentical claim.]
The new image, courtesy of St. Louis software engineer Matt Gatten, shows a phone featuring a message that reads: "Due to the long lines today, all Obama voters are asked to vote on Wednesday. Thank you! Please forward to everyone!"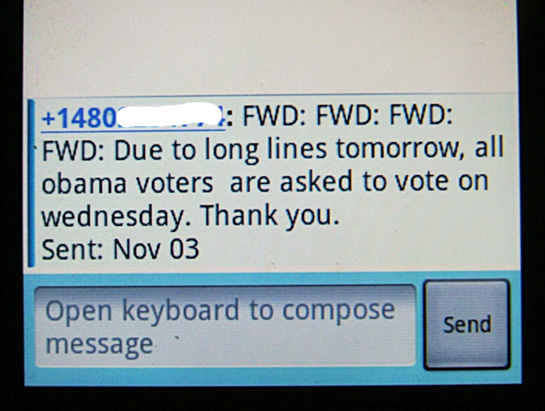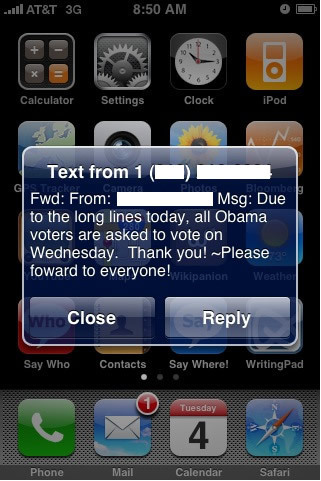 Gatten said he was a "little bit mad" when he received the message. "I did a reverse look up on the number that sent it, and it came from San Antonio, Texas," Gatten told the Huffington Post. "It made me mad. They're stealing votes that way. It's like spam: if it didn't work, people wouldn't be doing it."
Of course, it's hard to believe that a large number of voters could be fooled by such a ruse. Sorting out voters by candidate would quite obviously destroy the notion of a secret ballot. But if the tactic is as widespread as it seems, it might suggest that operatives are using every last trick at their disposal -- with only a few hours left before this election is in the books for good.
UPDATE: A student at the University of Florida says the fraudulent text-message campaign has become so widespread that a campus-wide advisory has been emailed out:
Dear Students,

A number of University of Florida students have reported receiving a text
message today claiming that voting has been extended until Wednesday. This
message is NOT legitimate and it should be ignored. Voting concludes today
-- Tuesday, Nov. 4 -- and polls close at 7 p.m.

If you have any questions, please call the Alachua County Supervisor of
Elections office at 352-374-[redacted].

Patricia Telles-Irvin
Vice President for Student Affairs