Abhisit Vejjajiva, who heads the former opposition Democrat Party, became Thailand's new prime minister Monday. The AP reports that Abhisit is known to lack decisiveness and may face difficulties as the leader after three years of political turmoil in the country.
[Abhisit] defeated a loyalist of exiled but still powerful ex-Prime Minister Thaksin Shinawatra in a parliamentary vote. The parliamentary contest came in the wake of mass protests by anti-Thaksin forces that included a weeklong siege of Bangkok's airports.

Now, Abhisit must try to neutralize Thaksin's supporters, who have vowed to take to the streets themselves, grapple with a dramatic economic downturn and keep intact the fragile coalition of small parties that brought him to power.

"Abhisit is untested and that is both good and bad. He has a clean record. He is well-educated, eloquent and principled so the public will likely give him a chance," says Panithan Wattanayagorn, a political scientist at Bangkok's Chulalongkorn University.

But Panithan said Abhisit has yet to outline a bold solution to Thailand's manifold problems.

"That is his weakness and that lack of decisiveness and clear political stance could turn against him very quickly," he said. "It's going to be among Thailand's roughest premierships."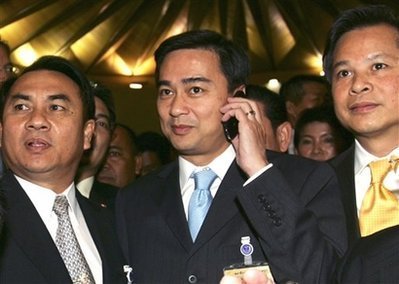 The Bangkok Post reports the new leader will have much work to do repairing the country's image and improving its economy.
There are two major tasks that the incoming administration must tackle without delay. The first is the enormous damage caused to the reputation and normal work of the government. Foreign relations, in particular, were heavily damaged by the border dispute with Cambodia, the postponement of the annual Asean summit and, especially, the closure of the two Bangkok airports. Diplomatic relations are at a nadir in recent Thai history. The damage to the tourist and trade industries is in the hundreds of billions of baht and rising.

But problem number one for the next government is, simply, the economy. The country's recent performance has been lacklustre, with growth below most of our neighbours. The Samak and Somchai governments came up with scattered stimulus packages. These were uncoordinated, frequently fumbled and - in the case of the rice prices - disastrous to farmers and exporters alike. Confidence in government economic policy is at the lowest in a generation, if not more.

But that is not all. The US recession has spread around the world. There is no longer any doubt that Thailand will be hard hit. It is almost certain it will suffer a shrinking economy next year. That means high unemployment, closure of many corporations and cutbacks at almost all the survivors.
A profile of the prime minister in the BBC states that Abhisit is English born, Oxford educated and "distinctly upper-class." He comes from a family of Thai-Chinese origin.
He was born in the British city of Newcastle in 1964 and educated at England's top public school, Eton. He then went on to gain a degree in politics, philosophy and economics (PPE) at Oxford University.

Mr Abhisit's support is drawn mainly from southern Thailand and from Bangkok's educated middle-classes. He has had less success in attracting the support of working class and rural Thais.
The profile says that Abhisit became one of Thai parliament's youngest members at 27.
While not entirely ditching the liberal reforms of "Thaksinomics" - a term used to refer to the economic set of policies of exiled former Prime Minister Thaksin Shinawatra - he has argued for a more statist approach.

Among other things, Mr Abhisit has advocated free healthcare, a higher minimum wage, and free education, textbooks and milk for nursery-school children.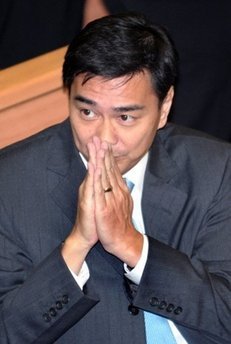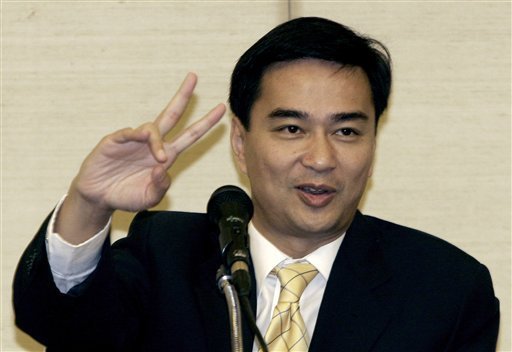 A profile in Al Jazeera states that Abhisit -- unlike Thaksin -- has little support outside of urban Bangkok.
Though popular with the foreign business community, Abhisit has found little support with rural northeastern Thais who make up the country's majority and are the backbone of support for Thaksin Shinawatra, the prime minister ousted in a 2006 coup who has remained the focus of anti-government protests since.

In nearly three years as opposition leader, Abhisit's excursions outside Bangkok or the Democrat heartlands of the south were rare and almost always met with hostility, sometimes even in the form of flying rotten vegetables.
SUBSCRIBE TO & FOLLOW WORLD POST