Even as the recession continues to spur the Great Laying Off Of Everyone In Media, the sniping spirits of rival news organizations will not dampen. Take Fox Business News -- they have used their Christmas card as a platform to make fun of CNBC and Mad Money host Jim Cramer in this holiday card, where Cramer is depicted as the Grinch Who Stole Christmas By Yelling Many, Many Bad Stock Tips.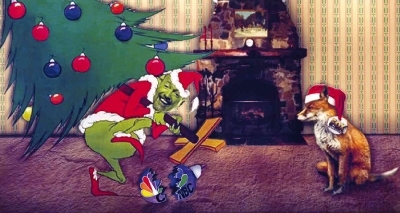 As TVNewser reports, what followed is a war of words between a bunch of people who need to spend more time justifying their continued employment. First, a CNBC spokesman snarked:
"As the lowest rated cable network among all rated cable networks, if Fox 'Business' News sends a card to every viewer, advertiser and individual who has ever seen or even heard of FBN, it would be the smallest holiday card print run in history. And, by the way, anybody who took Cramer's advice on the Today show on October 6 to decrease short-term exposure in the stock market has walked away with a sack of money (DJ down roughly 15% since his remarks). And Jim is just happy his old friends at Fox remembered him at this special time of year. He can't wait to get his card."
Soon, Fox Business Channel was back, playing the dozens:
"Perhaps the humorless, out of touch folks at CNBC should pull their heads out of Englewood Cliffs and embrace the reality of a viable competitor."
Anyway, both networks are filled with people who resolutely got the economic meltdown wrong, and neither does satire any better, the end.
FOLLOW HUFFPOST