In the wake of Israel's ongoing air strikes against Gaza, the Arab World is not only protesting Israel's actions, but also Egypt's.
Bloomberg tells of the massive demonstrations against Egypt throughout the Arab world, as many are accusing the country of collusion with Israel in the attacks. The accusations, Bloomberg reports, are fueled by Hamas because of Egypt's reluctance to open the border between it and Gaza.
President Hosni Mubarak said today that Egypt won't reopen its Rafah crossing into Gaza until the rule of Palestinian Authority President Mahmoud Abbas is restored there. Hamas took control of Gaza in a battle with Abbas's Fatah faction in 2007.

Egypt "failed to ward off the perception that it is conspiring with Israel in declaring a war on the Palestinians," said Diaa Rashwan, an analyst with the Cairo-based Al-Ahram Center for Political and Strategic Studies. "Israel set up a trap for Egypt and Egypt walked pretty well into it."
But Egypt is claiming that Hamas is to blame for the inability of Palestinians to cross the border for medical treatment, BBC News reports.
Egypt has helicopters and doctors on standby at the Rafah crossing.

There are also up to 40 ambulances waiting to go into Gaza to bring out the most seriously wounded. Tonnes of medical supplies have arrived at the nearby airport of El-Arish.

But the Egyptian authorities say that, at the moment, they have no-one to treat.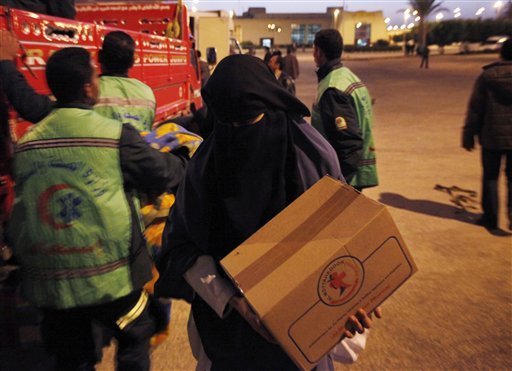 According to The Guardian, Egypt is also making it hard for foreign journalists to cross into Gaza, as well as Palestinians to get out.
Egypt has largely kept its one crossing into Gaza, at Rafah, closed except for in rare medical emergencies, and it too does not allow journalists to cross. The only reporters in Gaza now are Palestinians who live there and work for news agencies or for Palestinian and Arab satellite channels, including al-Jazeera.
Egyptian Foreign Ministry spokesman Hossam Zaki expressed frustration that the attacks are happening while a renewed ceasefire was in process, according to the Jerusalem Post. Egyptian Foreign Minister Ahmed Aboul Gheit sent his condolences to the Palestinians hit by the Israeli attacks.
"Today everybody has to stand by the Palestinian people's side and stop this blind military action," the foreign minister said, calling on Israel to immediately halt its attacks. However, he also blamed Hamas for ignoring warnings that Israel would attack if rocket fire from Gaza didn't cease.
Ynet News has an article speculating Egypt's collaboration with Israel on the attacks. The site reports that, according to Egyptian Intelligence documents, Egypt knew about the coming attacks and told other Arab states while allegedly assuring Hamas that Israel would not attack until new ceasefire negotiations were well underway.
The sources quoted in the article asserted that Suleiman had told Foreign Minister Tzipi Livni, during her Thursday visit to Cairo, that it was important to avoid civilian casualties during an military operation in Gaza, in order to avoid inciting the Arab public.

Hamas sources close to former Palestinian Foreign Minister Mahmoud al-Zahar told the paper that Egypt told Hamas on Friday evening that Israel had agreed to begin negotiations about a potential ceasefire and would not attack Gaza before Cairo had attempted to settle the issue.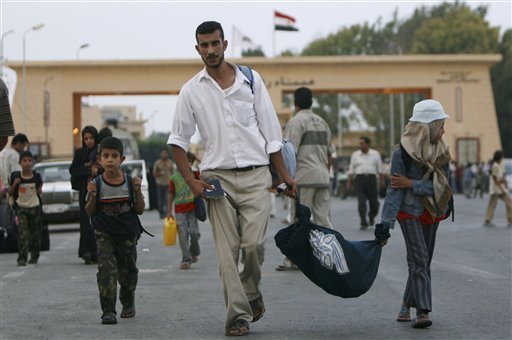 Reuters reports that Egyptian police have captured 23 members of the Muslim Brotherhood who were on their way to an event expressing solidarity for Hamas.
The officials, speaking on the customary condition of anonymity, said police detained the Egyptian Islamists in Cairo before a planned seminar at the Doctors' Union. One official put the number of those rounded up at 25.
Relations between Egypt and Hamas soured in the weeks prior to the attacks, reports the Daily News, Egypt's English-language newspaper.
Foreign Minister Ahmed Aboul Gheit was quoted as saying on Thursday that months of Egyptian-mediated talks between rivals Hamas and Fatah failed in November because of "Hamas' lack of enthusiasm toward reconciliation."

As the only Arab nation bordering the Gaza Strip, Egypt has been trying to reach a detente between Fatah and Hamas and prevent their conflict, which saw Hamas violently eject Fatah from Gaza in June 2007, spilling into Egypt.
Read the full story from the AP:
CAIRO, Egypt -- The Israeli bombing campaign in the Gaza Strip has unleashed outrage across the Middle East _ but the anger is being vented as much against Egypt as it is at Israel.
Protesters have attacked Egyptian embassies, accusing Cairo of helping Israel's longtime blockade of the territory and even giving a green light for the offensive _ a sign of the gulf between an Arab public and some U.S.-allied governments that dislike Gaza's Hamas rulers.
Demonstrators broke into the Egyptian consulate in the Yemeni city of Aden on Tuesday, trashing the interior, throwing computers out windows and burning the Egyptian flag on the roof. More than 500 protesters massed outside Egypt's embassy in Syria, as others did days earlier in Lebanon.
During a demonstration in the Lebanese city of Sidon this week, people chanted slogans denouncing Egyptian President Hosni Mubarak as "a pig" and a "collaborator" with Israel.
Mubarak, whose nation is one of only two Arab states to have peace treaties with Israel, on Tuesday accused his critics of seeking "political profit" from the suffering of Palestinians in Gaza.
His government vehemently denied backing Israel's attack. And the foreign minister, Ahmed Aboul Gheit, announced that Egypt was working with Turkey, which has strong ties with Israel, on an initiative to stop the offensive, restore a truce and open Gaza's borders under international supervision.
Egypt already had angered many Arabs by largely closing its Rafah border crossing into Gaza since the Islamic militants of Hamas violently took over the territory in 2007. Rafah is the sole access to Gaza that does not go through Israel, which has imposed a suffocating economic blockade on the coastal strip.
Story continues below
Embarrassing for Egyptian officials, Mubarak met with Israeli Foreign Minister Tzipi Livni only a day before Israel launched its assault, and the foreign minister _ though he urged Israel to show restraint _ was photographed smiling and shaking hands with her at a news conference.
Now, with television across the region showing the destruction and death in Gaza, Hamas and the Lebanese militant group Hezbollah _ both allies of Syria and Iran _ are stoking the anger against Egypt by accusing it of giving an OK to Israel to end Hamas rule in Gaza.
"We do not accept that the attack on Gaza be announced from the heart of Cairo," Mohammed Nazzal, a Hamas senior leader, shouted on Al-Arabiya television Sunday, referring to the Livni visit.
Hezbollah leader Hassan Nasrallah charged that Egypt's government was "taking part in the crime" against Palestinians and called on Egyptians to rise up and force the Rafah crossing open.
The anger could severely damage the key role Egypt has played as a mediator between Hamas on one side and Palestinian President Mahmoud Abbas and Israel on the other.
Egypt has been in a tough position because of Hamas's control of Gaza.
It worries Hamas rule is boosting Iran's influence in the region and could fuel Islamic militancy on its own soil. And it is under pressure from Israel, Abbas and the U.S. not to make any concessions that would bolster Hamas.
Yet, Egypt's leaders don't want to be seen as fueling a humanitarian crisis in Gaza. Egyptian television gave heavy coverage to several truckloads of medical and other supplies that Egypt sent in through Rafah and 36 wounded Palestinians who were brought out to Egyptian hospitals.
But on Tuesday, Mubarak insisted Egypt would not fully open Rafah unless Abbas' Palestinian Authority controls the crossing and European monitors required under a 2005 agreement are present. Otherwise, he said, opening the crossing would "deepen the breach" between Hamas and Abbas, who Egypt's government calls the legitimate leader of the Palestinians.
Aboul Gheit, the foreign minister, initially seemed to blame Hamas for provoking the Israeli offensive, saying soon after it began Saturday that "those who didn't listen" to warnings carry the responsibility.
Such talk put Egypt in the uncomfortable position of echoing the arguments of Israel, which says it acted to halt Hamas rocket attacks on southern Israeli towns. Since then, Egypt has been more vocal in its calls for Israel to stop the bombardment without conditions.
On Tuesday, Aboul Gheit denied that Egypt did not do enough to prevent the Israeli offensive, saying Mubarak warned Livni not to attack Gaza "because it will have repercussions on the region."
But the clamor over Gaza has underlined an increasing divide in the Middle East that pits pro-Western countries like Egypt, Jordan and Saudi Arabia against Syria and Iran and their allied militant groups, Hamas and Hezbollah.
In an unusually vocal criticism for an Egyptian politician, Abdullah Kamal, a member of Egypt's ruling party, denounced Hamas on Monday as a pawn of Iran, saying Iran and Syria are trying to make "Iran as the leader of the region through its militias, whether Hezbollah or Hamas."

SUBSCRIBE TO & FOLLOW WORLD POST