A US Airways jetliner crashed into the Hudson River on Thursday afternoon after a flock of birds apparently disabled both its engines. Rescuers pulled the more than 150 passengers and crew members into boats before the plane sank, authorities say.

Federal Aviation Administration spokeswoman Laura Brown told the Associated Press Flight 1549 had just taken off from LaGuardia Airport en route to Charlotte, N.C., when the crash occurred in the river near 48th Street in midtown Manhattan.

Video of other plane crashes into water:

<0--77--hh>

Slideshow on Wednesday's crash:

Video of Wednesday's plane crash here.

The LA Times has a citizen photo of the Hudson River plane crash.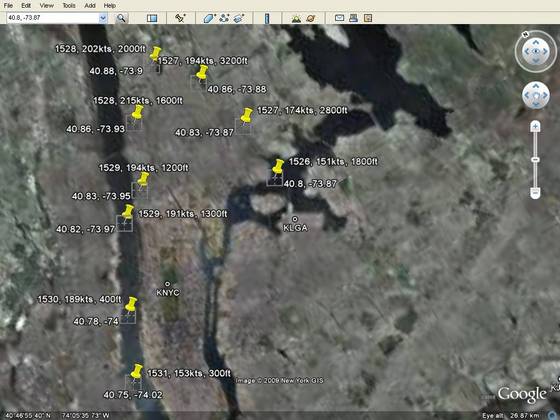 The plane, an Airbus 320, took off at 3:26 p.m. and went down minutes later, Brown said.

"There were eyewitness reports the plane may have flown into a flock of birds," Brown said. She added, "Right now we don't have any indication this was anything other than an accident."

Witnesses said the plane's pilot appeared to guide the plane down.

"I see a commercial airliner coming down, looking like it's landing right in the water," said Bob Read, who saw it from his office at the television newsmagazine "Inside Edition." "This looked like a controlled descent."

Barbara Sambriski, a researcher at the Associated Press, saw the plane go down from the news organization's high-rise office. "I just thought, 'Why is it so low?' And, splash, it hit the water," she said.

Joe Mazzone, a retired Delta Air Lines pilot, said it is not unusual for birds to strike planes. In fact, he said, when planes get ready to take off, if there are birds in the area, the tower will alert the crew.

"They literally just choke out the engine and it quits," Mazzone said.

0--77--hh>
SUBSCRIBE TO & FOLLOW THE MORNING EMAIL
Start your workday the right way with the news that matters most. Learn more