The ex-wife of French President Nicolas Sarkozy is moving to the United States to continue her work as an advocate for the prevention of domestic violence, the Daily Telegraph reports.
Mrs [Cecilia] Attias, who once complained to police about "brutal exchanges" with Mr Sarkozy before he was president, has set up a foundation with her new husband Richard Attias to promote women's rights.

But she revealed that she will not expect to see much of Mr Attias as he will continue to work largely in Dubai.
Attias told Gala magazine that she will be based in New York with her 11-year-old son, Louis.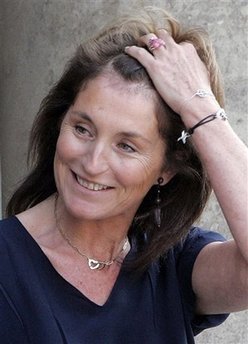 Attias was in the news last month when her Paris apartment was burglarized and she had hundreds of thousands of dollars worth of jewels stolen, the Daily Telegraph also reported.
Thieves broke into the luxury apartment in the upmarket suburb of Neuilly she shares with her new husband Richard Attias, an events organiser, police said.

...

According to the newspaper Le Parisien, the thieves broke in by smashing a first-floor window. A cleaner later reported the break-in to police.