Tibetans Mark New Year With Remorse
The usually joyful celebration of the Tibetan New Year was met with sadness and resentment yesterday in Varanasi, an age-old city home to Tibetan refugees.
The turn of the new year for Tibetans is normally a holiday filled hope as Tibetans surround themselves with friends and family who flock to be together. This year, though, in the wake of the upcoming one-year anniversary of the Chinese crackdown on Tibet, there was little happiness, reported The Times of India.
"But today the word Losar sounds heavy and painful because hundreds of innocent Tibetans lost their lives in Tibet in the Chinese military crackdown beginning March 10 last year," said Pema, a student of Central University of Tibetan Studies (CUTS), Sarnath, who along with his other Tibetan colleagues observed the day as Remembrance Day for Tibetan black year-2008.
Yesterday marked the first day of the "earth ox" year in the Tibetan calendar, and Chinese news sources reported a happier celebration of the occasion. Chinaview.com, a Chinese news site focusing on Tibet, said ethnic Tibetans living in China are entitled to a one week celebration of their new year.
In Lhasa, the authorities organized fireworks displays at four downtown locations Monday night.

In the Tibet Autonomous Prefecture of Diqing, Yunnan Province, Ngawang Drakpa, a living Buddha from Shangri-la, said the New Year festival would mean a busy schedule of holy scripture recitals.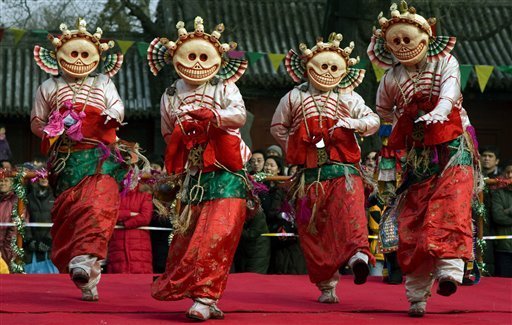 The Dalai Lama, Tibet's religious leader, sent a message to his followers on the new year encouraging Tibetans to mourn in protest, reported The Times Online.
The Economist wrote that the Tibetans have little to celebrate, and followed the lead of the Dalai Lama.
The festival fell just before a bloodstained anniversary season: 50 years since the Chinese suppression of an uprising that saw the Dalai Lama, their spiritual leader, flee into exile in India with some 100,000 followers; 20 years since protests that led to the imposition of martial law in the capital, Lhasa; one year since ugly and murderous anti-Chinese riots in Lhasa that brought a sharp and lasting security backlash. The fact that so many troops are still needed, merely to prevent commemorative protests, suggests that China's Tibet policy is in need of an overhaul.