UPDATE: *THE RESULTS ARE IN!*
You have voted Social Secretary Desiree Rogers Washington's Best-Dressed Woman. Dr. Jill Biden came in a close second, and Washington's first lady Michelle Fenty came in third. Here are the final results.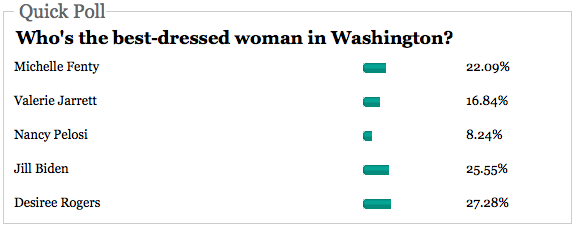 You may be familiar with Michelle Obama, and you may have even read a thing or two about her clothes.
But that's not to say that Washington doesn't have other style stars. Take a look at our finalists in this category, and then cast your vote in the poll below.
SLIDESHOW:
Washington's Best-Dressed Women
Michelle Fenty Occupation: Lawyer, wife of DC Mayor Adrian Fenty Fun fact: Washington's first couple met at Howard University Law School, where, like another first couple, Michelle acted as Adrian's mentor. The mayor says of his British wife: "It was love at first sight."

Valerie Jarrett Occupation: Senior advisor to President Obama Fun fact: Jarrett, a close friend of the President's, was born in Shiraz, Iran. She often totes her work around in oversized, elegant bags.

Nancy Pelosi Occupation: Speaker of the House Fun fact: Pelosi is known for her Armani suits.

Jill Biden Occupation: School teacher and wife of Vice President Joe Biden Fun fact: Biden is an accomplished marathoner and showed off her fit frame in a strapless Reem Acra gown at the inaugural balls.

Desiree Rogers Occupation: White House Social Secretary Fun fact: Rogers was spotted at New York Fashion Week sitting beside Vogue editor Anna Wintour at several shows.