The HuffPost's selection of photos of today's news and events from every corner of the globe. This Huffington Post World feature is available Monday through Friday.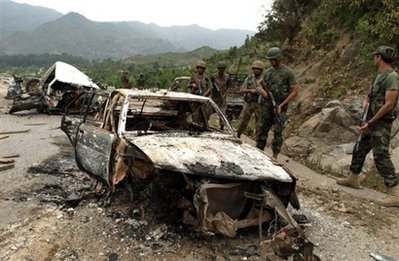 A peace deal in Pakistan appeared close to unravelling Monday as deadly fighting raged between soldiers and militants in the northwest, sparking Taliban threats of fierce resistance. - AFP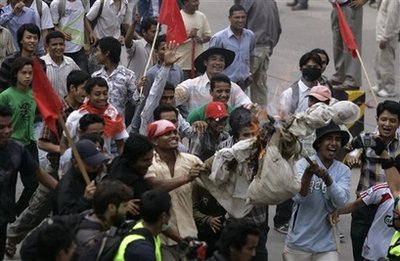 Communist Party of Nepal (Maoist) supporters burn an effigy of Nepal's army chief Rookmangud Katawal, in Katmandu, Nepal, Monday, May 4, 2009. Nepal's Prime Minister Pushpa Kamal Dahal, former Maoist guerrilla leader turned parliamentary politician, resigned Monday amid a power struggle over his firing of the army chief, saying he was stepping down to 'save the peace process' that brought the Himalayan nation out of a bloody decade-long civil war - AP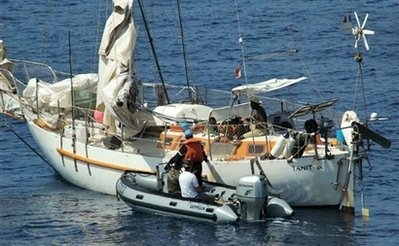 A picture released by the French army shows French special forces on April 10 negotiating with Somali pirates for the release of their French hostages on their yacht, the Tanit, off the Somalian coast. One of the French yachtsman taken hostage by the pirates was shot and killed by French special forces during the rescue operation last month and not by his captors, Europe 1 radio reported Monday. - AFP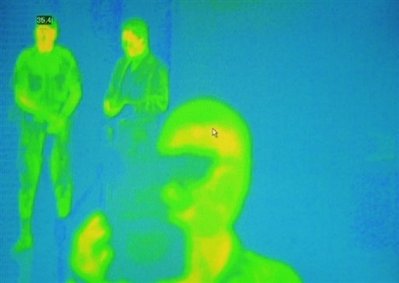 Picture of the screen of a thermal scanner as people are scanned at El Salvador international airport. The head of the World Health Organisation has warned that swine flu could return with a vengeance despite Mexico's President Felipe Calderon insisting his country has contained the epidemic. - AFP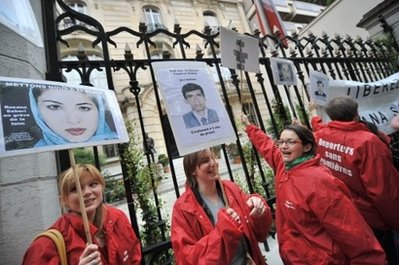 Members of Paris-based Media rights watchdog Reporters Without Borders (RSF) demonstrate in front of the Iranian embassy in Paris. Iran dismissed protests launched by members of a press freedom group seeking the release of US-Iranian journalist, Roxana Saberi, who has been jailed on espionage charges. - AFP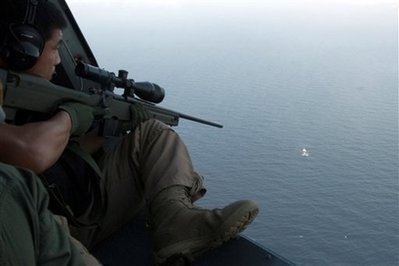 In this photo released by South Korea's Joint Chiefs of Staff, a South Korean sniper on Lynx helicopter, aims at a pirate ship in 37 kilometers (23 miles) south of Aden port in Yemen, Monday, May 4, 2009. A South Korean navy warship has rescued a North Korean freighter by driving away a pirate ship chasing it off Somalia. South Korea's Joint Chiefs of Staff said Monday the 4,500-ton-class South Korean warship sent a Lynx helicopter to assist the North Korean vessel after receiving a distress call earlier Monday that it was being chased by the pirate ship. - AP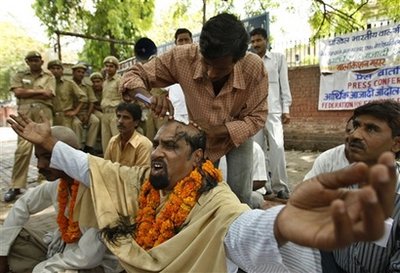 A man gets his head shaved as part of a group of people who had their heads shaved to draw attention to their demand that the government provide monetary assistance in the form of pension to every registered voter in the country, in New Delhi, India, Monday, May 4, 2009.With more than 700 million voters, India holds elections in five phases ending May 13 and results are expected May 16. - AP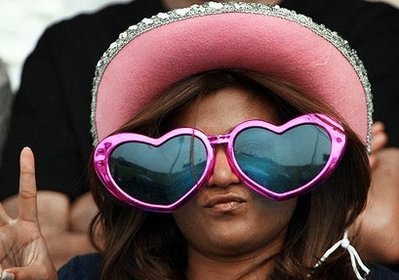 Fan love : A Pakistani cricket fan sporting heart sunglasses attends her team's fourth one-day international cricket match against Australia in Abu Dhab. - AFP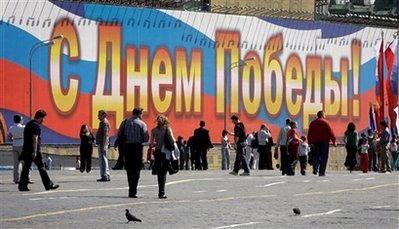 People walk along the Moscow Red Square on Monday, May 4, 2009, with a billboard reading Victory Day, background, set to mark the upcoming celebration. Victory Day, marking Nazi Germany's defeat in the World War II, is celebrated in Russia on May 9, the date of the Nazis' capitulation to the Soviet Union, which took place in the evening on May 8, 1945 (May 9 by Moscow Time), following the original capitulation Germany agreed earlier to the joint Allied forces on the Western Front. The Soviet government announced the victory early on May 9 1945 after the signing ceremony in Berlin. - AP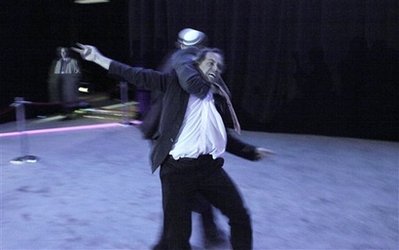 A protester is dragged away by security during a speech by Israeli President Shimon Peres at the American Israel Public Affairs Committee 2009 policy conference on Monday, May 4, 2009 in Washington. - AP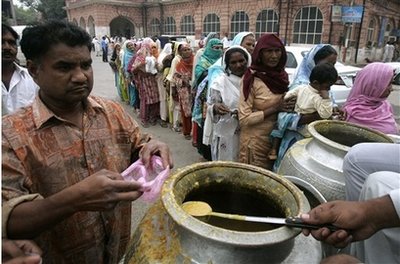 People get free food from a stall arranged by a businessman at local hospital in Lahore, Pakistan on Monday, May 4, 2009. People of Pakistan are suffering from poor economic conditions, a vast majority earns less than three US dollars a day to meet their basic necessities. - AP
Follow HuffPost World on facebook and on twitter.
See previous entries for World in Photos.