World In Photos: May 5, 2009
The HuffPost's selection of photos of today's news and events from every corner of the globe. This Huffington Post World feature is available Monday through Friday.
***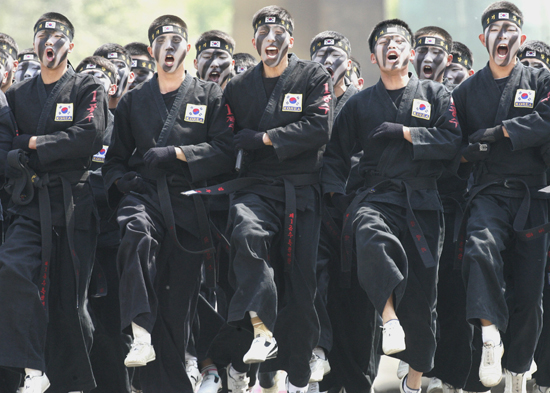 South Korean soldiers from the South Korean army special forces shout as they run to demonstrate their skills of martial art during a demonstration of South Korea's martial art for Children's Day at the War Museum in Seoul, South Korea, Tuesday, May 5, 2009. (AP Photo/Ahn Young-joon)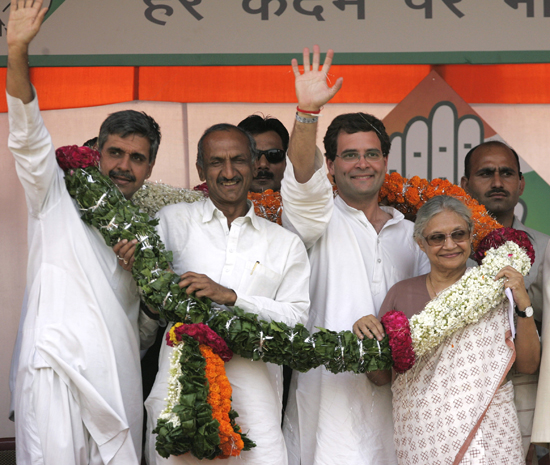 India's ruling Congress party leaders from left to right, Sandeep Dikshit, J.P. Aggarwal, Rahul Gandhi, and Delhi state Chief Minister Sheila Dikshit wave to the crowd during an election rally in New Delhi, India, Tuesday, May 5, 2009. With more than 700 million voters, India holds elections in five phases ending May 13 and results are expected May 16. (AP Photo/Manish Swarup)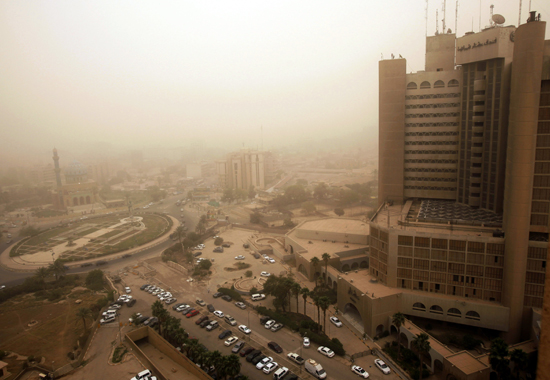 A thick sandstorm covers the Firdous Square and the 14th of Ramadan mosque in central Baghdad, Iraq, Tuesday, May 5, 2009. (AP Photo/Hadi Mizban)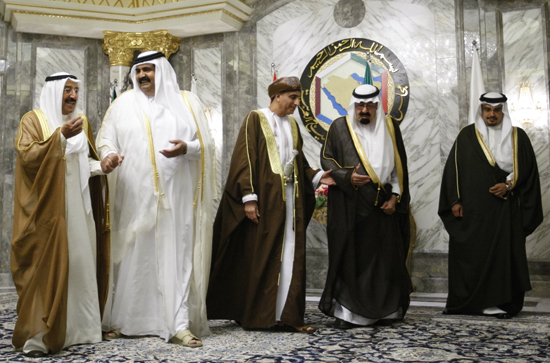 Arab gulf leaders from left to right, Kuwaiti Emir Sabah Al Ahmed Al Sabah, Qatari Emir Sheik Hamad bin Khalifa Al Thani, Omani Deputy Prime Minister Fahd bin Mahmoud Al Saeed, Saudi King Abdullah bin Abd al-Aziz, Crown Prince of Bahrain Sheik Salman Bin Hammad al Khalifa, arrive for the opening of the Gulf Cooperation Council (GCC) summit in Riyadh, Saudi Arabia, Tuesday, May 5, 2009. (AP photo/Hassan Ammar)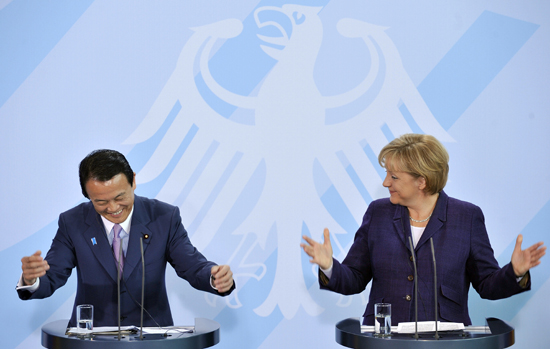 German Chancellor Angela Merkel, right, and Japanese Prime Minister Taro Aso, left, gesture during a news conference in Berlin, Germany, on Tuesday, May 5, 2009. Aso is on a one-day visit to Germany. (AP Photo/Gero Breloer)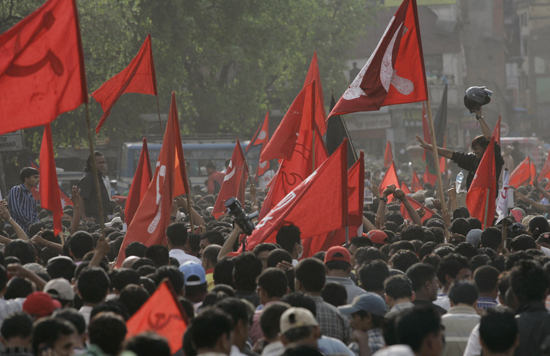 Maoist supporters participate in a street march in Katmandu, Nepal, Tuesday, May 5, 2009. Nepal's President Ram Baran Yadav asked the country's fractious political parties to form a new government Tuesday, a day after the Prime Minister Pushpa Kamal Dahal resigned in a power struggle over integrating former rebels into the army. (AP Photo/Gemunu Amarasinghe)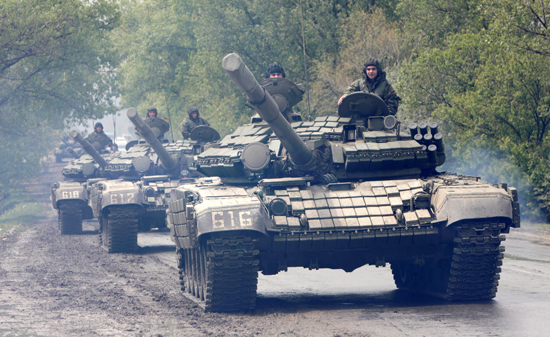 Georgian tanks head to the military base in Mukhrovani, where a brief mutiny broke out, about 20 miles (30 kilometers) from Tbilisi, Georgia, Tuesday, May 5, 2009. Georgia said it had ended a brief mutiny at a military base near the capital on Tuesday that broke out after the arrest of a former special forces commander accused of planning to disrupt NATO exercises. The mutineers handed over their weapons and surrendered after speaking to President Mikhail Saakashvili, who suggested that force could be used against them if they refused to give themselves up to police, an Interior Ministry spokesman said. (AP Photo/Shakh Aivazov)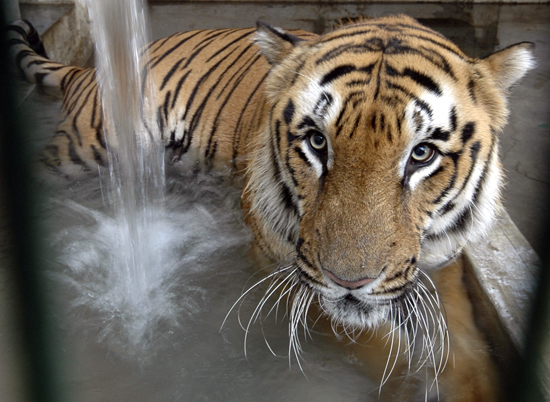 A tiger cools off at its enclosure at the zoo in Ahmadabad, India, Tuesday, May 5, 2009. India has suffered through a heat wave in recent days. (AP Photo/Ajit Solanki)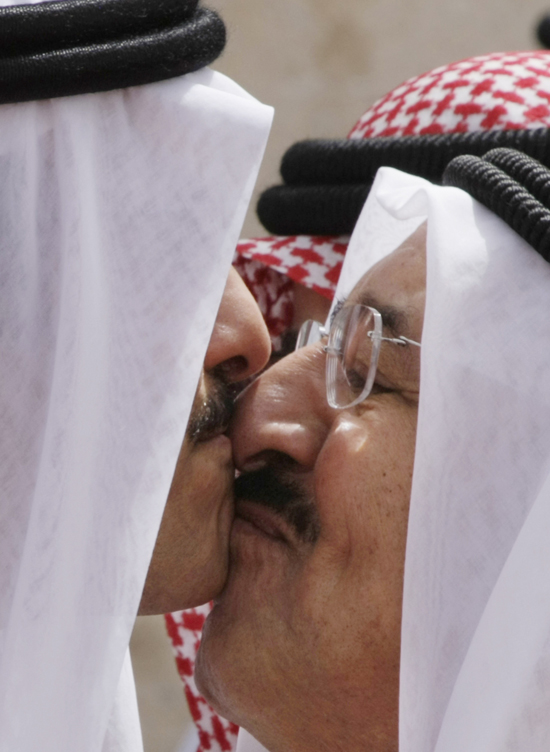 An unidentified Saudi official welcomes the Emir of Kuwait, Sabah Al-Ahmad Al-Jaber Al-Sabah, right, on his arrival for the Gulf Cooperation Council (GCC) summit in Riyadh, Saudi Arabia, Tuesday, May 5, 2009. Leaders of the six-nation Gulf Cooperation Council were gathering to discuss the location of a long-delayed a regional central bank, a step crucial to advancing the oil-rich region's plans for a unified currency. (AP Photo/Hassan Ammar)
See previous entries for World in Photos.
------
Keep in touch with Huffington Post World on Facebook and Twitter.

MORE:
Iraq
,
Foreign Affairs
,
India
,
Photos
,
Japan
,
Germany
,
Saudi Arabia
,
Advocacy
,
South Korea
,
World Photos
,
World In Photos
,
Images