Original Caption: President Barack Obama "meets" with speechwriter Cody Keenan, who dressed as a pirate for an Oval Office photo taken for use in the President's humorous speech to the White House Correspondents Association dinner May 9, 2009. "But as I said during the campaign, we can't just talk to our friends. As hard as it is, we also have to talk to our enemies, and I've begun to do exactly that," the President said in his speech.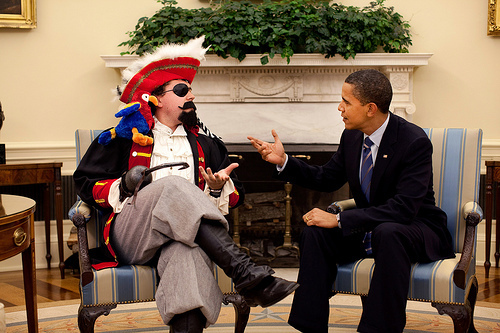 THURSDAY'S FAVORITES:
WEDNESDAY'S WINNER:
"Actually, I wanted to pet BO Bama. But OK." By northernperspective.
SUBSCRIBE TO & FOLLOW ENTERTAINMENT
Don't be the last to watch the viral video everyone is talking about. Learn more