A new Gallup poll finds GOP support plummeting among the Republican base.
Almost 4 out of 10 (38%) Republicans and Republican-leaning independents have an unfavorable opinion of their own party, while just 7% of Democrats and Democratic-leaning independents have an unfavorable opinion of the Democratic Party. Additionally, a May 29-31 USA Today/Gallup poll shows that the top-of-mind images of the Republican Party among Republicans are considerably more negative than are the images of the Democratic Party among Democrats.
While GOP unpopularity began rising notably in 2005, the party has taken a massive hit since Barack Obama's victory in the 2008 presidential election. According to the study, 59 percent of all Americans view the party unfavorably, while only 34 percent view it favorably.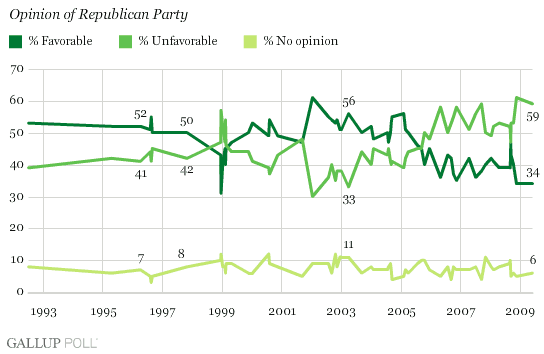 The poll comes on the heels of Gallup's finding that a majority of Republicans (52%) do not know who speaks for the GOP. The three front-runners, as The Huffington Post reported yesterday, are Rush Limbaugh, Dick Cheney and Newt Gingrich, none of them getting more than 10 percent of the vote.
SUBSCRIBE TO & FOLLOW POLITICS
How will Trump's administration impact you? Learn more