Unemployment: The Worst-Hit Cities (MAP)
Unemployment rates climbed in all U.S. metropolitan areas from last May to this May, the government announced on Tuesday.
Of metro areas with a population of more than a million, Detroit wins the sad prize of highest unemployment, with a rate of 14.9 percent. The Labor Department's Bureau of Labor Statistics reported that El Centro, Calif. had the highest overall rate: 26.8 percent. Fifteen areas reported jobless rates of at least 15 percent: Seven in California, three in Michigan, and two in Indiana.
Oklahoma City and San Antonio, Texas, were the largest metro areas with the lowest rates, with 5.7 and 5.8 percent unemployment, respectively. The lowest rate of all cities was in Bismarck, N.D., at 3.5 percent, with Iowa City right behind at 3.7 and Ames, Iowa at 3.8 percent.
Overall, 148 metro areas reported unemployment above the national rate of 9.1 percent, and 215 areas reported lower rates.
The Brookings Institution released a study on June 17 that found that found that the recession is hurting U.S. cities at "radically varying levels." Unemployment was one of the key factors in Brookings' "MetroMonitor" report, which found that Detroit was the weakest-performing city in the country, economically speaking. San Antonio and Oklahoma City came out on top.
Here's a map from the Labor Department. Areas whose unemployment rates are higher than the national average are in dark gray; areas with lower unemployment are in light gray.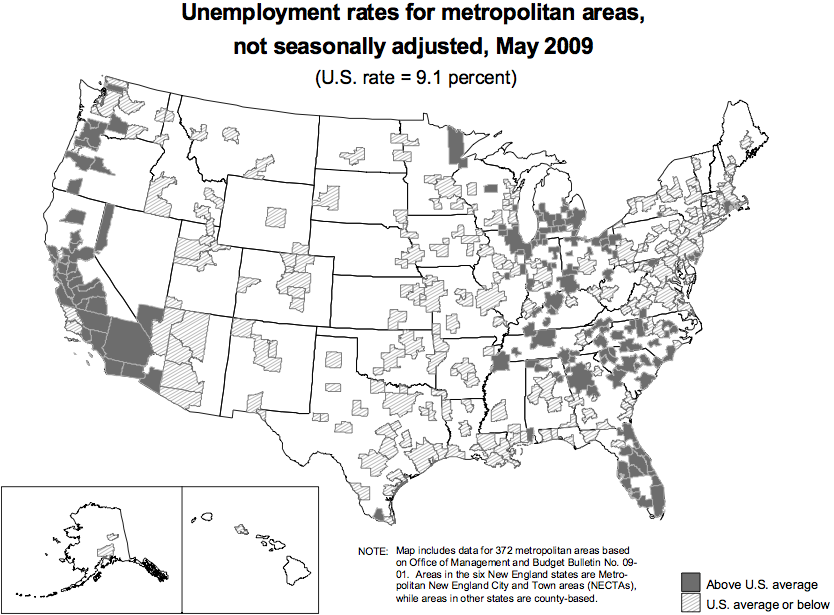 When will the job market begin to pick up in your area? VOTE below:
Click here for a PDF of the BLS report.