WATCH:
Hundreds of protesters are gathering in L'Aquila to march against the Group of Eight summit held in this quake-hit central Italian town.

Anti-globalization activists carrying red communist flags and wearing "No G-8" T-shirts were bused in from across Italy to set out from the L'Aquila suburb of Paganica.
The White House says it expects "frank" but constructive talks in President Barack Obama's meeting Friday with Pope Benedict XVI -- two men who share similar views on helping the poor and pushing for Middle East peace but disagree on abortion and stem cell research.

...
Obama's election presented a challenge for the Vatican after eight years of common ground with President George W. Bush in opposing abortion, an issue that drew them together despite the Vatican's opposition to the war in Iraq.

But the Vatican has been openly interested in Obama's views and scheduled an unusual afternoon meeting to accommodate the American president at the end of his stay in Italy for a G-8 summit meeting in the earthquake-stricken city of L'Aquila and just before he leaves for Ghana.
He said African borrowers should enjoy "preferential terms" and urged the West to reject protectionism in trade and to seek a way to cover the gaps that have appeared in foreign aid budgets during the global slowdown.

...
He called on them to "guarantee that the major industrialised countries' stimulus plans don't lead to protectionist policies and don't aggravate the imbalances in the international commercial system."
Leaders from the Group of Eight leading economies Friday pledged $20 billion over three years to finance agriculture projects in developing countries and help fight hunger and food price volatility.

The U.S.-sponsored food security plan aims to provide poor farmers in developing countries with seeds, fertilizers and the infrastructure needed to boost food production as a long-term solution to combat hunger and spiking food prices.
The impact of the economic crisis on the African continent and food security are the main items on the agenda for the final day of the L'Aquila G8 Summit. Africa and the impact that the global recession is making on the continent are at the centre of the working breakfast held from 8.30 to 10.00 am and attended by the leaders of Algeria, Angola, Egypt, Ethiopia, Libya, Nigeria, Senegal, South Africa and the African Union Commission in addition to the G8 Heads of State and Government. The IEA, World Bank, IMF, ILO, OECD, WTO and UN representatives are also attending the breakfast.
"The figure of $15 billion has been quoted and we expect President Obama to make this announcement tomorrow and to call on other G-8 countries and emerging economies to support this initiative," said Kanayo Nwanze, president of the International Fund for Agricultural Development, who is participating in G-8 talks in Italy on Friday.

...
"These numbers are bouncing around. It may end up being something similar to that," [White House national security aide Denis McDonough] told reporters. "It is the kind of investment that the president promised or committed to at the G-20 in London in April, when he pledged to double (U.S.) food security funding."
Stealing world leaders' thunder, the Hollywood star toured ruins with actor buddy Bill Murray and the former leader of Italy's Democratic Party, Walter Veltroni, a personal friend and fellow campaigner for Africa.

''It's surprising to see a city that has sustained so much damage and I think (the film) is the best way to lend a hand and boost the economy,'' he said. Clooney said shooting would start at the end of September and he would have a part in the film, which he did not name.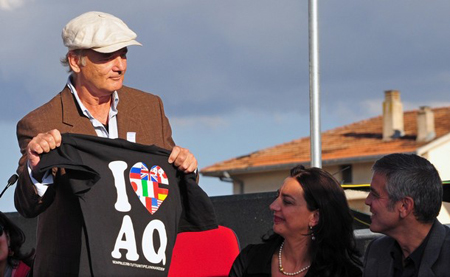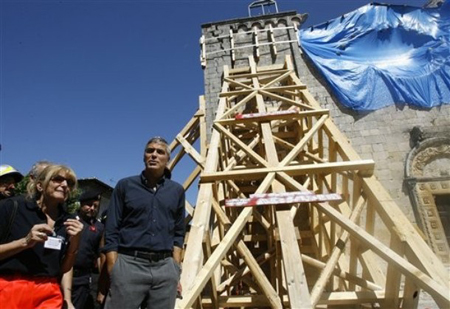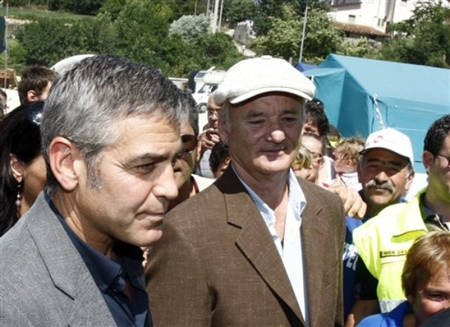 The Libyan leader's tent, which stands in the barracks' football field, is equipped with all the luxuries, including a plasma screen TV and decoder, and is being guarded by several of his female 'Amazon' bodyguards. Gaddafi will also be the best situated world leader to cope should a major earthquake hit the city, which is still experiencing tremors. Italy has prepared a G8 evacuation plan if there is a quake of 4.0 on the Richter scale or above. The National Geophysics and Volcanology Institute currently rates that risk at about 30%. It is customary for Gaddafi to pitch a tent wherever he goes. Last month Gaddafi insisted on pitching a huge tent in a Rome park during his first official visit to Italy, during which he tried the patience of the authorities by standing up MPs from Italy's Chamber of Deputies who had gathered to hear him speak.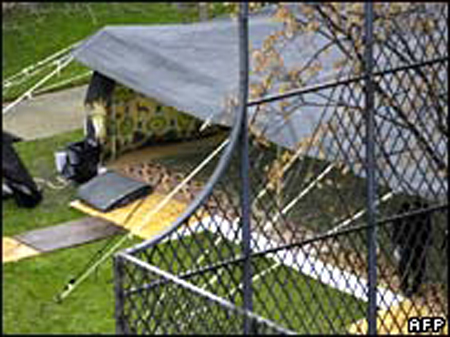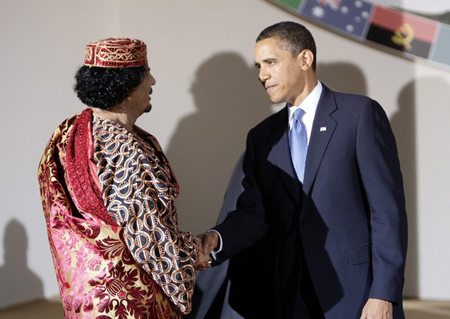 The leaders of Australia, Brazil, Britain, Canada, China, the European Union, France, Germany, India, Indonesia, Italy, Japan, Korea, Mexico, Russia, South Africa and the United States endorsed the two-degree deal but did not agree on greenhouse gas emission cuts. Scientists believe that two degrees Celsius above pre-industrial levels is the point at which climate change becomes irreversible.

''We weren't able to agree on a target of a 50% reduction in global carbon emissions by 2050 or in a shorter term but the accord (to limit global warming) to two degrees Celsius is an important step forward,'' said Swedish Prime Minister and European Union duty president Fredrik Reinfeldt.
The Junior 8 Summit, or J8, is an annual forum involving youngsters aged 14 to 17 hailing from all over the world. Boys and girls chosen to represent G8 member States and other emerging countries (China, Brazil, India, South Africa and Mexico) and this year Egypt, address the same issues as those on the Summit agenda and draft recommendations for the leaders.
WATCH:
WATCH:
"The policies that they have stated so far are not enough, not sufficient enough. This is the science. We must work according to the science. This is politically and morally imperative and a historic responsibility for the leaders for the future of humanity, even for the future of planet Earth."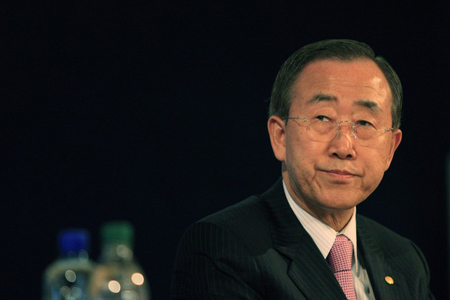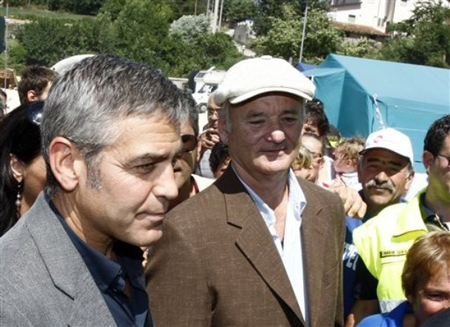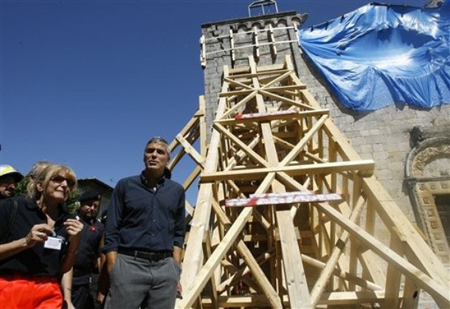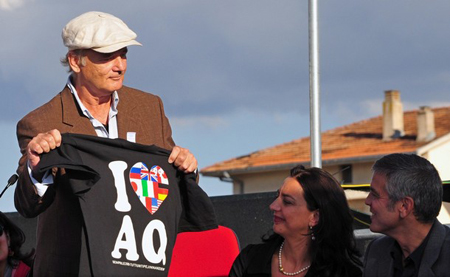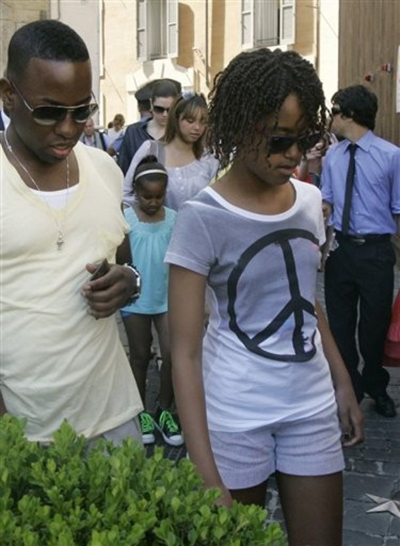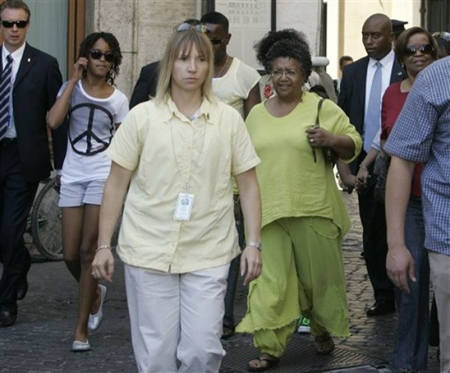 Today the 120,000 strong Sant' Egidio community across the world address new crises. With their hugely dedicated staff we talked about the work they are doing to fight HIV/AIDS in Africa aiming to offer a treatment in Mozambique and Malawi that matches the treatment you can find in Italy or the UK. In many of the poor countries I've visited, AIDS often has a female face. Pacem from Malawi has come to share with us her journey from her own HIV positive diagnosis to treatment and life now as an activist for Sant'Egidio, sharing the message of life after testing.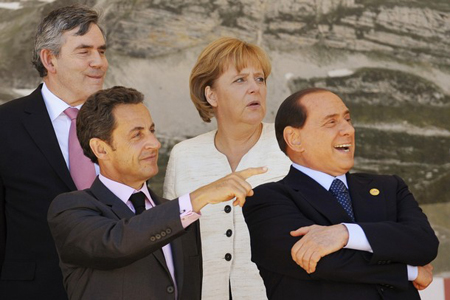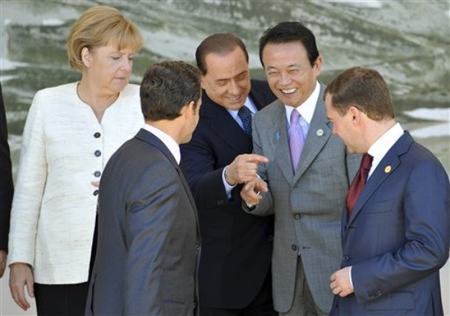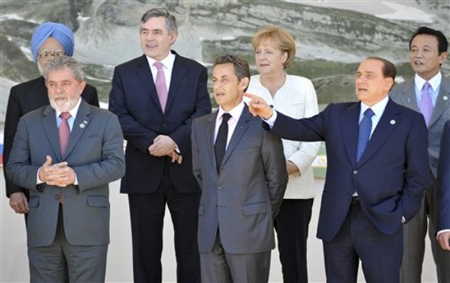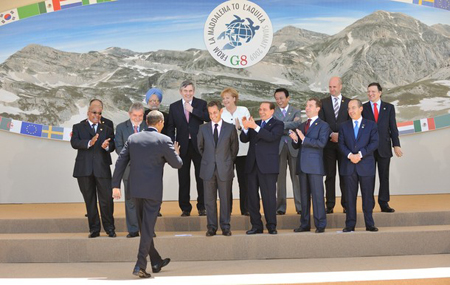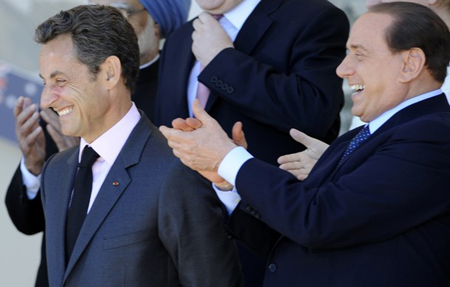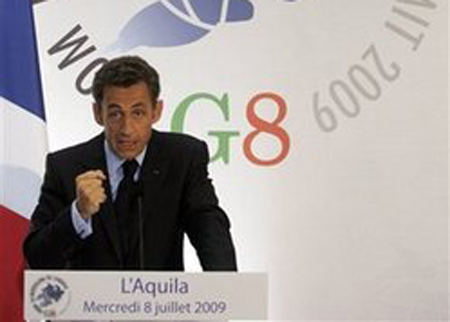 With officials from Brazil, India and Russia pushing consideration of alternatives to the dollar as the world's dominant reserve currency, the draft called for a "stable" monetary system, according to a German official who read the language to reporters today.

...
"I think that, despite whatever talk you might have heard, I don't see that there is movement away from the notion of the dollar being that currency," White House spokesman Robert Gibbs said today at the start of the second day of the three-day meeting in L'Aquila, Italy.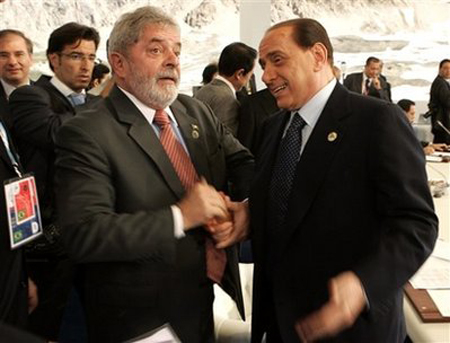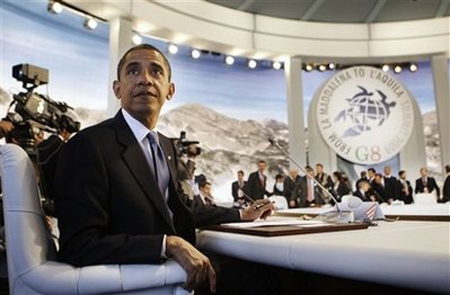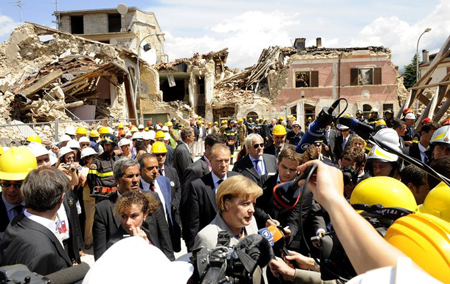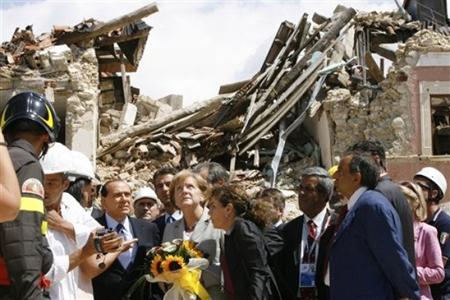 Within hours of the quake, blankets, water and biscuits were being handed out and those who had lost their homes or were too nervous to return were guided to a tent camp in a nearby stadium. Prime Minister Silvio Berlusconi dispatched 5,000 additional rescue workers from neighboring towns and cancelled a trip to Russia to fly to the epicenter. "I want to say something important," he said at a press conference in L'Aquilia. "No one will be abandoned to their fate."
In Rome, several members of the Italian parliament said they were starting a hunger strike on Wednesday night to urge the G-8 leaders to press China to end the violence in Xinjiang region.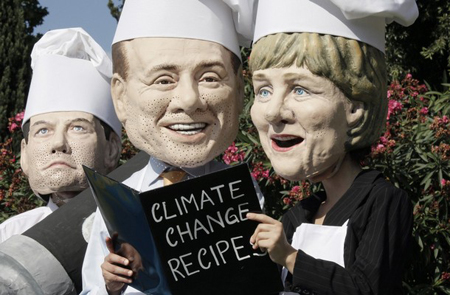 Belstaff, which also kits out current film stars such as George Clooney and Brad Pitt, has produced a limited edition black parka for delegates at the summit.

And there's a "parka-chic" version for the first ladies.

"Every single jacket is made to measure," Manuele Malenotti, whose Italy-based Clothing Co bought Belstaff in 2004, told Reuters. "Every single jacket is signed by (Italian Prime Minister Silvio) Berlusconi."
It might sound like the standard compliments a visitor might make after being hosted in the splendor of Renaissance-era Quirinal Palace. But in a country whose real leader, Premier Silvio Berlusconi, is under fire from a sex scandal, the words had a special ring.

Even if Obama did not intend any snub of Berlusconi, the embattled premier has been under a barrage of attacks over his moral fitness to lead Italy and become a flashpoint for criticism of preparations for a summit of world leaders in earthquake-stricken L'Aquila.
But the deal was marred by the failure of fast-growing Asian nations to sign up. The G8 had wanted them to agree to cut their carbon output by 50 per cent in the same time.

However, the 50 per cent carbon targets faced resistance from India and China, which argued that the targets would hamper their economic growth.

"For any long-term goals there have to be credible midterm goals in the range of 25-40 per cent," said Dinesh Patnaik, an Indian climate policy negotiator.
WATCH:
WATCH:
WATCH:
"We underline how important it is to honour the engagments to increase aid that we made in Gleneagles."
If CO2 emissions are halved by 2050 compared to 1990, global warming can be stabilised below two degrees. This is shown by two studies by a co-operation of German, Swiss and British researchers in the journal Nature.

To contain global warming, and its risks and consequences, warming compared to pre-industrial times (pre 1900) should not exceed two degrees Celsius.
A fourth woman has come forward to claim that she was paid 1,000 euros (£870) to attend a party at one of the Italian prime minister's private homes.

Maria Teresa De Nicolo, 37, said the 72-year-old premier was the "perfect host" when he danced with her after the candle-lit dinner and that contrary to reports he did not have his hands all over her "like an octopus".

"I danced with the prime minister and also with some of the other men who were present," said Miss De Nicolo.
Italian authorities have readied an evacuation plan for G8 leaders attending a summit in the earthquake-hit city of L'Aquila in the event of a tremor of a 4.0 magnitude or higher, a source close to organisers said.

The source said the civil protection agency had prepared plans to evacuate leaders to Rome by air if needed. Summit meetings and events would then continue in the Italian capital.
The L'Aquila summit seems likely to achieve nothing, i.e., nothing that could not have been agreed upon in a conference call among deputy ministers. Just because there's a communiqué does not mean it has any real content. Does this kind of expensive pageant make politicians today look important or frivolous?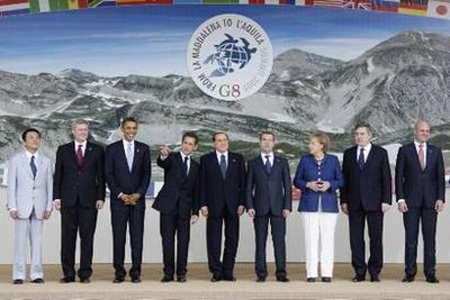 In Rome, activists from charity group Oxfam International put on masks of world leaders and dressed up as chefs, stirring a mock Earth in a pot representing the planet's rising temperature.

The stunts came a day after anti-globalization groups in the capital blocked roads, rail tracks, and clashed with police in violent protests against the G-8. Nearly 40 Italian and foreign activists were detained.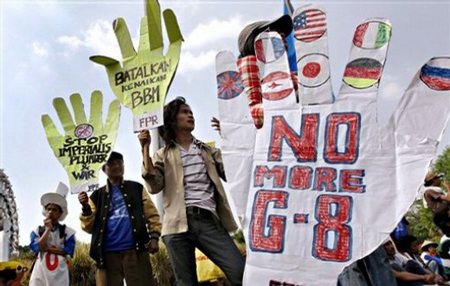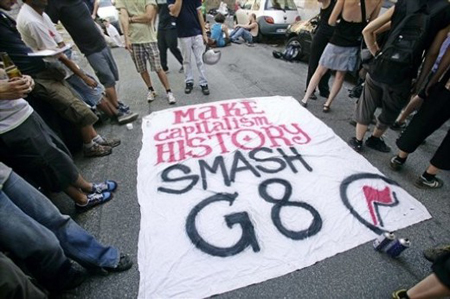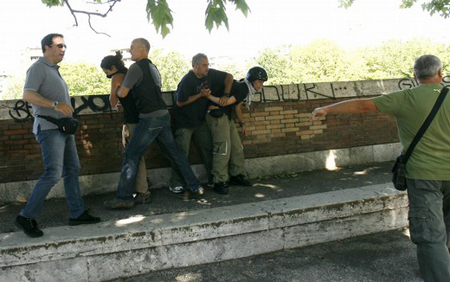 "Before there's talk of additional stimulus, I would urge all leaders to focus first on making sure the stimulus that's been announced actually gets delivered," Harper said Wednesday after announcing a $5-million Canadian contribution to the host city here that was devastated by an April earthquake that caused about 300 deaths.

"That's been our focus in Canada and I would encourage the same priority elsewhere."
For two years the price of oil has been dangerously volatile, seemingly defying the accepted rules of economics. First it rose by more than $80 a barrel, then fell rapidly by more than $100 before doubling to its current level of around $70. In that time, however, there has been no serious interruption of supply.

The oil market is complex, but such erratic price movement is cause for alarm. The surge in prices last year gravely damaged the global economy and contributed to the downturn. The risk now is that a new period of instability could undermine confidence just as we are pushing for recovery.
Obama, accompanied by his wife Michelle, went immediately into a meeting Wednesday morning with Italian President Giorgio Napolitano after arriving at the stately Quirinale Palace, meeting his host in a spectacular setting that included a large room with a soaring ceiling, gilded walls and doors and huge chandaliers.

Emerging from the meeting with Napolitano, Obama said he was looking forward to the G-8 talks and praised his Italian hosts for being "such good friends" of the United States over the years.

He said the two countries among other things "are working hand in hand in places like Afghanistan to ensure that we're isolating extremists and strengthening the forces of moderation around the world." Obama also said he and Napolitano agreed that efforts must continue in the area of "raising standards on financial institutions" to protect against future global economic meltdowns.

He also said that its crucial that world leaders work to ensure that Iran and North Korea don't "take a path" that would widen the arms race on the Korean peninsula and in the Mideast.
WATCH:
In talks that continued late last night the [Chinese and Indian] delegations are understood to have prevented any mention of the target in the draft communiqué, insisting that the developed economies should promise to cut their own emissions sharply by 2020 before asking developing nations to commit to a long term target.
SUBSCRIBE AND FOLLOW
Get top stories and blog posts emailed to me each day. Newsletters may offer personalized content or advertisements.
Learn more