We'll be following the Group of 8 Summit in L'Aquila here with news, photos and video. Feel free to check back at regular intervals for updates.
******
Obama meets Pope... (10:24 A.M.):

Obama end-of-summit news conference (8:30 A.M.):
Obama concluded the G8 summit in L'Aquila with a news conference where he thanked his Italian hosts and reaffirmed his support of the people of L'Aquila, which was devastated by an earthquake in April of this year.

Obama enumerated what he considers the most significant achievements of the summit, beginning with the G8 leaders' "widespread consensus to restore economic growth" and stability in financial markets. He touted the United States' role in leading this effort with its stimulus package and "sweeping overhaul of the regulatory system."
The second item, which Obama seems to have especially dedicated himself to this week, was nuclear security. Obama issued an invitation to world leaders this week for a nuclear security summit to be held next March in Washington, DC. Earlier this week, Obama and Russian President Medvedev reached an agreement to draft a new disarmament treaty that will cap each country's deployed nuclear warheads at 1,500.
Obama also, while speaking on nuclear security, addressed the ongoing tension with Iran over its own nuclear program and its brutal crackdown of protesters following the June 12 presidential election.
Third, Obama addressed climate change, which was arguably the central most focus of the summit this week. G8 leaders committed to their first ever temperature goal--which aims to keep global temperature increases below 3.6 degrees Fahrenheit above pre-industrial levels. Obama also touted a general agreement among developed nations to reduce carbon emissions by 80 percent by 2050. However, his remarks elided the fact that this agreement is not supported by China and India, who are the sine qua non of any meaningful climate change effort.
The fourth and final achievement, which Obama has given a personal mantle, given his heritage, is food security; namely an agreement to deliver $20 billion in aid to developing nations over the next 3 years, with a focus on Africa.
WATCH:


Following his remarks, Obama took questions from the press.
WATCH:


When asked about health care reform


Protesters' last hurrah (8:02 A.M.):
G8 summit protesters have their last opportunity today to speak their minds, and as AP reports, they're showing up by the hundreds:

Hundreds of protesters are gathering in L'Aquila to march against the Group of Eight summit held in this quake-hit central Italian town.


Anti-globalization activists carrying red communist flags and wearing "No G-8" T-shirts were bused in from across Italy to set out from the L'Aquila suburb of Paganica.

Obama's first Pope meeting is today (8:00 A.M.):
Obama will meet Pope Benedict XVI for the first time today. The audience is highly anticipated, especially given the criticism Obama has received from a good number of American Catholic bishops. From the AP:

The White House says it expects "frank" but constructive talks in President Barack Obama's meeting Friday with Pope Benedict XVI -- two men who share similar views on helping the poor and pushing for Middle East peace but disagree on abortion and stem cell research.

...
Obama's election presented a challenge for the Vatican after eight years of common ground with President George W. Bush in opposing abortion, an issue that drew them together despite the Vatican's opposition to the war in Iraq.

But the Vatican has been openly interested in Obama's views and scheduled an unusual afternoon meeting to accommodate the American president at the end of his stay in Italy for a G-8 summit meeting in the earthquake-stricken city of L'Aquila and just before he leaves for Ghana.
Obama news conference soon, stay tuned (7:57 A.M.):
Obama will give a Friday news conference from the summit. I'll have the video here for you as soon as it's available.

Mubarak calls for debt freeze (7:53 A.M.):
While G8 leaders reached an accord of $20 billion in aid to developing countries, Egyptian President Hosni Mubarak, at a working meeting on Friday, also called for African debts to be frozen to aid the world's poorest countries during the global recession, AFP reports:

He said African borrowers should enjoy "preferential terms" and urged the West to reject protectionism in trade and to seek a way to cover the gaps that have appeared in foreign aid budgets during the global slowdown.

...
He called on them to "guarantee that the major industrialised countries' stimulus plans don't lead to protectionist policies and don't aggravate the imbalances in the international commercial system."

Aid update ( 7:38 A.M.):
G8 leaders have pledged to deliver $20 billion in aid over the next 3 years--$5 billion more than was originally reported--to assist poor farmers in developing countries, the Wall Street Journal reports:

Leaders from the Group of Eight leading economies Friday pledged $20 billion over three years to finance agriculture projects in developing countries and help fight hunger and food price volatility.

The U.S.-sponsored food security plan aims to provide poor farmers in developing countries with seeds, fertilizers and the infrastructure needed to boost food production as a long-term solution to combat hunger and spiking food prices.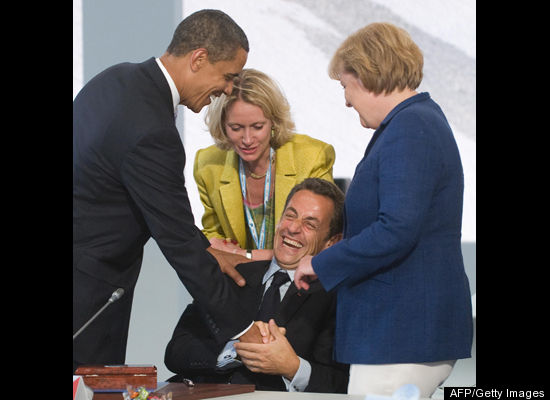 Africa's day (7:21 A.M.):
The third and final day of the summit in L'Aquila will focus on African economies and food security, with a specific focus on the effects of the global recession. According to the summit's official website:

The impact of the economic crisis on the African continent and food security are the main items on the agenda for the final day of the L'Aquila G8 Summit. Africa and the impact that the global recession is making on the continent are at the centre of the working breakfast held from 8.30 to 10.00 am and attended by the leaders of Algeria, Angola, Egypt, Ethiopia, Libya, Nigeria, Senegal, South Africa and the African Union Commission in addition to the G8 Heads of State and Government. The IEA, World Bank, IMF, ILO, OECD, WTO and UN representatives are also attending the breakfast.