Payday loans are touted as a useful financial product for middle-class households that just need a little help making ends meet in the short term. But critics have long held that the costly short-term loans burn a hole in those households' finances, which can immediately necessitate another loan, and another, and another, trapping the borrower in a cycle of debt.
A new study by the Center for Responsible Lending shows exactly how fast this loan "churning" happens. Eighty percent of people who take out a payday loan take out more than one per year, according to the study, and nearly nine out of ten of those repeat borrowers take out their next loan before their next payday. Half do it within one day of paying off the previous loan.
More than $20 billion of the $27 billion in annual payday loan volume -- 76 percent -- is a product of this churning, according to the study.
"If you look at payday loans in general, the industry looks like it has booming demand, like lots of people need these loans even if they have high cost," said Leslie Parrish, co-author of the report, in an interview with the Huffington Post. "What our findings show is three quarters of that volume is artificially generated."
Steven Schlein, a spokesman for the Community Financial Services Association of America, a trade group for the payday lending industry, brushed off the study.
The Center for Responsible Lending "has a history of misusing the regulator data," wrote Schlein in an email to the Huffington Post. "In fact, none of its studies ever hold up after review by competent statisticians or researchers. Of course, they don't care because they get the media attention and then move on."
Schlein pointed the Huffington Post to past criticisms of CRL reports by regulatory services company Veritec Solutions.
To get a payday loan, borrowers sign over their next paycheck in exchange for an advance usually worth a few hundred dollars, with a typical fee of $15 per $100 loaned. Because of the two-week repayment deadline, the annual percentage rate (APR) of interest on such a loan approaches 400 percent.
Payday lending is illegal in 15 states that have instituted APR caps of 36 percent or less. Consumer advocates want a nationwide cap set at 36 percent, per a bill introduced by Sen. Dick Durbin (D-Ill.). Lenders are already prohibited from charging members of the military more than 36 percent interest, a cap President Obama has said he would like expanded to included all Americans.
"It would incentivize [payday lenders] to make loans over a longer term," said Parrish. "Payday lenders could still charge $15 per $100 borrowed and that would go a long way for allowing people to fully repay their debt."
Here's a chart from the report that breaks down how quickly payday borrowers return for more: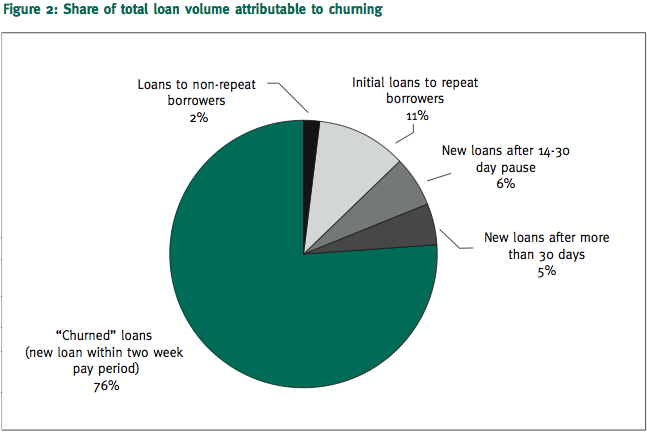 Parrish said the loan churning costs households $3.5 billion a year in fees.
"You can imagine what kind of opportunities are lost," she said. "Especially right now when more people are living paycheck to paycheck, that's a huge loss for these households."
UPDATE 5:15 PM: CFSA board chair Lynn DeVault weighs in with an official response to the Center for Responsible Lending's study:
Center for Responsible Lending cannot seem to look at data and apply a common sense analysis. Let's be clear about the demand for payday advances. Consumers find themselves with an urgent need to pay a bill before payday. They survey their choices--payday advances, bank or credit union loans, overdraft protection, title loans, borrowing from family members, pawnshops or credit card advances. They also carefully weigh how much each will cost them in simple dollars and cents. Many choose a payday loan.

Now we agree with Center for Responsible Lending that sometimes one payday advance is not enough. The financial hit the consumer took--a car repair, a hospital bill, a utility bill payment--might not be resolved. But after a payday advance, consumers still have all the other options. The fact they many choose another payday advance is evidence that we offer a strong alternative to the other services.

We offer consumers a solution to short-term financial problems. Center for Responsible Lending offers them sympathy and moral support.
FOLLOW HUFFPOST