Desiree Rogers's new Michigan Avenue magazine cover features the White House Social Secretary looking cool in a cream-colored jacket, but some sartorial details were left on the cutting room floor: her clothing credits. According to WWD, this act of fashion negligence comes months after Rogers's Capitol File photoshoot, in which she wore a $3,370 Louis Vuitton coat and $7,900 freshwater pearl and diamond earrings by Jorge Adeler. Insiders think Michigan Avenue omission is intended to tone down her glamor girl image, which could be considered inappropriate for White House employee during a recession.
A spokeswoman for Niche Media, which publishes Michigan Avenue told WWD, "The magazine did not focus on the credits as it was a personality-driven story about Desiree and her efforts and her connection to Chicago."
Rogers seems to have a personal interest in style, once even sitting next to Anna Wintour at a few fashion shows. The Michigan Avenue profile calls her "ultimate 'It' woman about town" and a "stand-out guest on the gala circuit." She's chaired and attended hundreds of parties and has brought that spirit, along with the spirit of service, to the White House.
THE COVER: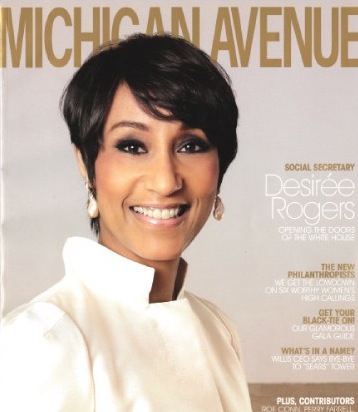 Follow HuffPost Style on Twitter and become a fan of HuffPost Style on Facebook!