There is nothing better than lying on your sofa and doing absolutely nothing," says Natalie Portman, who just purchased this "rustic castle-like" historic estate in an exclusive, secluded enclave of LA. "Natalie wanted a property that had character and integrity, something that was special," says Richard Stanley, a Coldwell Banker real estate agent in LA who specializes in architectural and historic properties.

"This house is perfect for her," he says of the gorgeous 1930s-era home that the actress paid more than $3 million for. "It's a beautiful home and truly is something special. It's the trophy home of the neighborhood."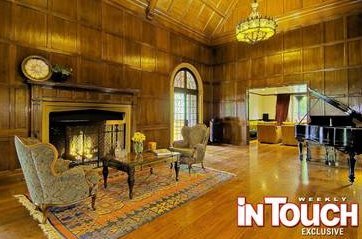 The restored house is located in the same neighborhood where Hollywood legends like Cecil B. DeMille, W.C. Fields, Charlie Chaplin and Carole Lombard once lived -- and where numerous Hollywood celebs now live today. But it's not the Hollywood label that convinced Natalie that this was the perfect home for her. It has four bedrooms and a private courtyard. It also includes two guest houses, perfect for visiting friends from back East, as well as her parents -- her father, Avner, a fertility doctor, and her mother (and former agent), Shelley, to whom she credits much of her success. "If my career stops, if I do badly in a role or if one of my movies is a total failure, I know I'll still have my parents. It helps me not to be afraid and to take risks," Natalie says.

For more exclusive photos of Natalie's new home, check out this week's issue of In Touch, on newsstands now!
SUBSCRIBE AND FOLLOW
Get top stories and blog posts emailed to me each day. Newsletters may offer personalized content or advertisements.
Learn more