PUMA's iPhone App: Stripper Stock Ticker, Market Drops, Clothes Drop (VIDEO, PHOTOS)
PUMA's just launched the most fun stock ticker yet: the PUMA Index.
The app combines a real stock ticker with a little twist: stripping models. As the market goes down, the models' clothes come off.
Losing money's never been so fun.
PUMA's YouTube ad (watch below!) explains:


"The clothes come off, and the colder the market gets, the hotter out index gets."


"So now if you lose your shirt, the models do too."
There's a PUMA Index for the Dow, the DAX, and the S&P/ASX, along with a different girl for each (or a muscled hunk on a hotrod if you'd prefer)
And in between market activity they're still busy--washing cars in their underwear, jumping on trampolines.
Blackberry-toting bankers needn't feel left out: there's a web version at TheIndex.Puma.com, that's (full disclosure) a partnership between the HuffPost and PUMA.
Talk about a market stimulus.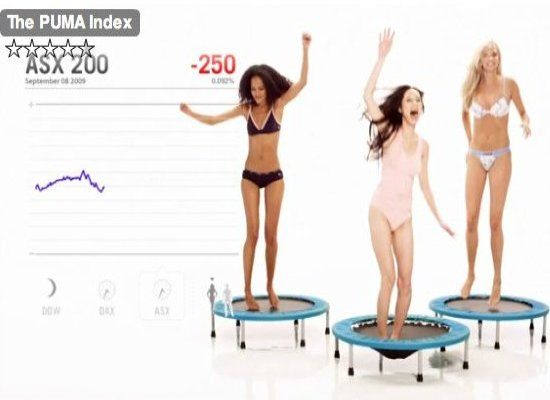 Rate This Photo
(Current Rank:
loading...
)
Cold Like Lehman
Hot Like 2006 Home Prices
Average rating:
out of 10
Puma Index: Dow Down, Clothes Off
loading...
|
Become a fan
Picked These as the Top 5 Slides in the Slideshow
Users Who Voted on this Slide
loading...
HuffPost Community Top 5 Slides:

WATCH: