For the second time this week, Sydney, Australia was hit by a huge dust storm Saturday, causing the city to glow red. Reuters reported that the first storm on Wednesday, Sept. 23, carried 23 million tons of dust into the eastern Australian city.
While the dust storm photos are stunning, perhaps the most striking images come from video shot by a woman in Broken Hill, Australia, a small, central western mining town about 15 hours from Sydney.
Within seconds, the dust storm totally obscures the sunlight, turning the frame pitch black, and worrying the woman behind the camcorder.
Agence-France Presse reports that Broken Hill was in "the eye of the storm" on Wednesday.

Below are photos from Wednesday's dust storm in Sydney.
Amazing Storm Photos
Find a picture, click the participate button, add a title and upload your picture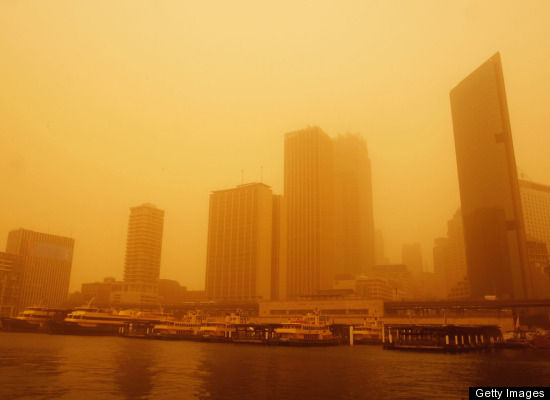 Rate This Photo
(Current Rank:
loading...
)
Glad I'm Not There
Magnificient
Average rating:
out of 10
Amazing Dust Storm Images
loading...
|
Become a fan
Picked These as the Top 5 Slides in the Slideshow
Users Who Voted on this Slide
loading...
HuffPost Community Top 5 Slides: