The Senate GOP fundraising arm is soliciting donations by vowing to defeat Democrats who want to repeal the retroactive immunity granted last year to telecommunications companies who participated in the controversial warrantless wiretapping program.
In a fundraising e-mail obtained by the Huffington Post, National Republican Senatorial Committee Chairman Sen. John Cornyn vowed to "retire" Sen. Chris Dodd (D-Conn.) for trying to repeal the companies' immunity from prosecution for their involvement in the program, which was authorized by the Bush White House in violation of existing laws. "Cooperating with authorities who were trying to protect Americans from another large scale terrorist attack," is how Cornyn put it in the e-mail.
With support from Sens. Russ Feingold (D-Wis.), Patrick Leahy (D-Vt.) and Jeff Merkley (D-Ore.), Dodd introduced a bill last week that would make the powerful telecom companies once again liable for their role in the domestic spying program. Although Cornyn's e-mail deems the bill "just his most recent effort to court the extreme liberal left in his re-election efforts," Dodd has championed an investigation for years.
He consistently sought -- ultimately unsuccessfully -- to scuttle last year's FISA bill, which, with the support of then-Sen. Obama, also granted the executive branch broad new spying powers. As the New York Times reported in April, both the Bush and Obama administrations promptly abused those powers. Dodd's amendment to strip retroactive immunity for telecoms from the bill failed, 32 to 66.
Up for re-election next year, Dodd's poll numbers have significantly rebounded since the spring, when his public image was tied to AIG and Quinnipiac pollsters had him trailing former Republican Congressman Rob Simmons by as much as 16 points. In the interim, Dodd muscled credit card reforms through the Senate and got Ted Kennedy's health care bill out of committee, and is currently working on financial-regulatory reforms. But he remains far from the position of strength typical of a five-term incumbent, down five points to Simmons as of the Sept. 17 Q poll.
Cornyn and the NRSC are trying to raise money with this image: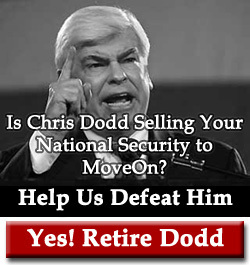 The full fundraising e-mail appears below:
Last year, Congress overwhelmingly passed bipartisan legislation granting immunity to telecommunications companies that have cooperated with federal authorities' anti-terrorism efforts. Even then-Senator Barack Obama voted in favor of the measure.

But now one of the most outspoken critics of this bill is back in an attempt to boost his re-election chances. Senator Chris Dodd, the extremely vulnerable incumbent Democrat, has re-introduced legislation to open telecom firms to civil and criminal lawsuits - the ACLU is salivating at the opportunity.

Their crime? Cooperating with authorities who were trying to protect Americans from another large scale terrorist attack.

Senator Dodd is considered one of the most vulnerable Democrats in the Senate up for re-election in 2010. This new effort to expose those who cooperate with government authorities to civil and criminal lawsuits is just his most recent effort to court the extreme liberal left in his re-election efforts - a constituency he will need if he is to get re-elected.

The NRSC is committed to defeating Chris Dodd in 2010. Your contribution of $25, $50, or even $100 today will have a real impact in this race. Help us retire Chris Dodd today.

Senator John Cornyn
Chairman
FOLLOW HUFFPOST