Where is the mortgage crisis wracking the most damage? These handy maps, courtesy of the New York Fed, track changes in mortgage delinquency rates by county.
You may not be surprised to see that mortgage delinquencies are getting worse over vast swaths of the country. But the year-over-year delinquency numbers -- the first chart below -- point to heavy concentration of late in the West, followed by a streak of improvements in the Midwest that trickle away as you head East. In almost all parts of California, Washington and Oregon, delinquencies are far worse than they were a year ago.
Disturbingly, there are only a handful of counties across the nation where mortgage delinquencies are actually improving over last year. (Kudos to Beaverhead, Montana and Red River, Texas!)
The New York Fed's website, which also tracks other measures of consumer credit, including auto loans, student loans, and bank loans, is intended to help "government agencies, community groups, commercial institutions and other practitioners better understand, monitor and respond to local conditions associated with foreclosures and credit and mortgage delinquencies."
To see how your area is faring, check out the map below. (NOTE: The New York Fed's map has full data on each county. Check it out here.)
In the below map, red indicates counties where delinquencies have worsened, green indicates areas where conditions have improved, and the gray shading indicates areas where there has been no change.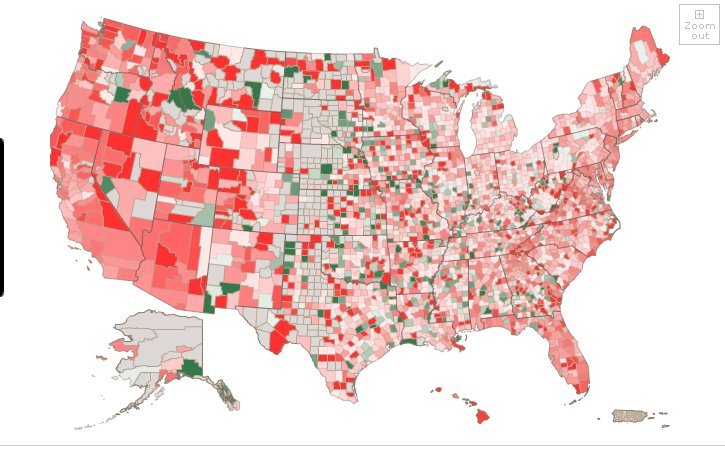 The second-quarter numbers in the chart below are even more devastating news for California. In fact, the map shows that almost all of the most severe delinquency rates are concentrated in California and Florida. (Check out the more detailed version of this map here)