British police are using eBay to unload criminals' illegally-obtained "bling."
The online auction of jewelry, electronics, and other loot bought with "dirty money" is the first online police sale of its kind, and has so far attracted dozens of bids, according to the Daily Mail.
The Leicester Police eBay page currently lists about 15 items for sale, including a TAG Heuer watch, Plasma TV, several gold chains, and a Rolex watch.
The Leicester Police eBay homepage prominently features their catchy slogan encouraging whistleblowers to report crime: "Too much bling--give us a ring!"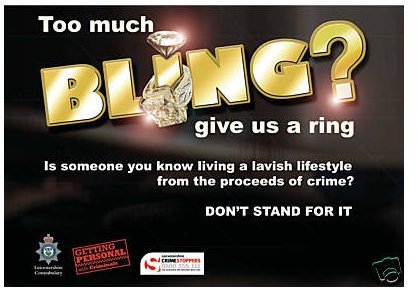 The Daily Mail notes that electronics have been far more popular than the "bling" (prices below are in British pounds):
Bargain hunters have rushed to snap up cheap electronic goods, including a 47in LCD television for £345 and Xbox and Sony PS2 computer consoles for £46 and £21 respectively.

Other popular items include a digital theatre system for £24.99 and a Nintendo Wii console priced at £50.

But 'bling' - jewellery worn by gangsters, including a number of gold chains and pendants - has attracted far less interest.
Proceeds will go to fund crime-fighting initiatives.

SUBSCRIBE AND FOLLOW
Get top stories and blog posts emailed to me each day. Newsletters may offer personalized content or advertisements.
Learn more