As attention turns to the House Financial Services Committee's attempts at increasing regulation on the financial industry, the Sunlight Foundation's Paul Blumenthal took a look at which industries are contributing the most to members of the committee.
According to Blumenthal's analysis of Center for Responsive Politics data, 27 committee members have received over a quarter of their contributions from the finance, insurance and real estate industries this year. Of those 27, 12 have received more than 35 percent of their contributions in 2009 from those sectors.
Sunlight put together a graph showing the money: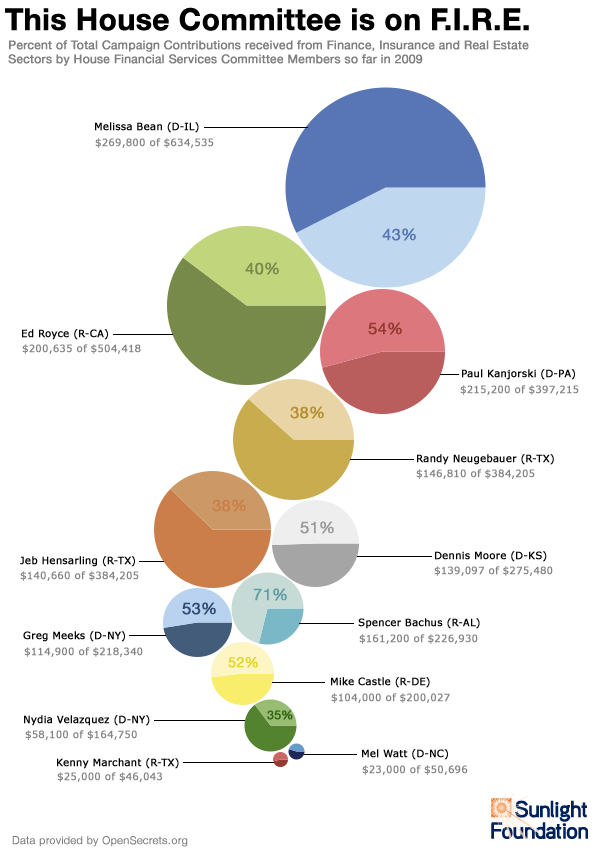 Ranking Member Bachus, a crucial decision maker on the committee, received 71% of his campaign contributions from the finance, insurance and real estate (FIRE) sector so far this year. (These numbers run from January 1-June 30.) For his career, the Alabama congressman receives 45% of his contributions from the FIRE sector. Bachus leads the committee in his reliance on FIRE sector campaign contributions. Bachus has taking a position in opposition to most of the regulatory reforms. Bachus recently stated in a hearing, "this is absolutely the wrong time to be creating a new government agency empowered not only to ration credit, but to design the financial products offered to consumers."
As LobbyBlog reported earlier, the House Financial Services Committee is the subject of intense lobbying efforts as it takes up issues such as derivatives regulation, credit card interchange fees and the creation of a Consumer Financial Protection Agency to regulate consumer banking activities.
MSNBC's Dylan Ratigan, just after noisy interview with the Chamber of Commerce's Tom Donohue, saw fit to brandish a printout of Sunlight's chart at House Financial Service Committee chairman Rep. Barney Frank (D-Mass.).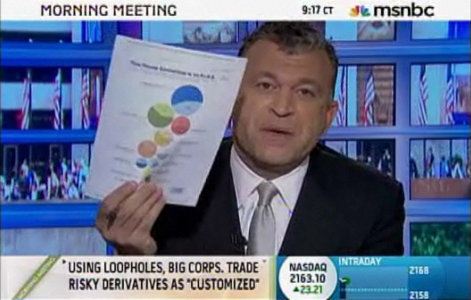 Frank demurred on the question of whether committee members were influenced by campaign contributions, noting that the likes of Rep. Melissa Bean (D-Ill.) represent districts with lots constituents who work in the affected industries.
"It's not contributions, it's votes," said Frank. "They're motivated by the economic interests of their voter districts and the people who work there." He added: "Judge us by the final product."