***Scroll down for zoom photos and poll***
Her 'Mad Men' costar Christina Hendricks is the one known for her unreal curves, but January Jones' GQ shoot has people talking about her assets as well. The November covergirl looks surprisingly voluptuous in an open leather jacket, leading some to wonder whether the cover shot is just another Photoshop creation.
GQ has been quick to deflect the buzz with a blog post entitled "Yes They're Real. And They're Spectacular." Director of Photography Dora Somosi said:
People think that a person will look the same in every photograph, but that just doesn't happen. You can have two pictures in the same light, same clothes, same setting, and just a couple of seconds of difference, just the way you move your hands or the way you hold your neck, will change how your body looks. Also, she's a smaller woman--she's pretty thin, so it might throw a person off to see her looking this way....We like a natural look--there's very minimal retouching. We'll take a pimple out or soften under eye dark circles. Or maybe there's a wrinkle in the shirt, or even dust on the lens. January Jones needed no help. Trust me.
What do you think? Have Betty Draper's modestly cut dresses been hiding this body all along? Take a look at the GQ image compared to a picture of January at this year's Emmys and vote.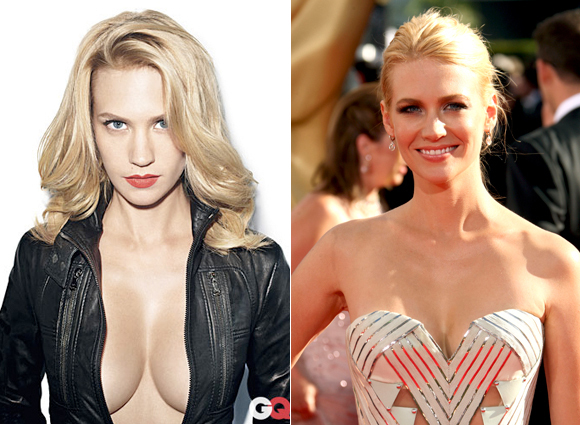 SUBSCRIBE TO & FOLLOW ENTERTAINMENT
THE spot for your favorite fan theories and the best movie recs. Learn more