Are New York subway riders "good without God"?
Starting next Monday, an alliance of local groups will begin a month-long subway advertising campaign with a pro-Atheist message. The Big Apple Coalition of Reason's campaign is being funded by a $25,000 donation from an anonymous source and follows a similar bus campaign in July. Posters emblazoned with the slogan "A million New Yorkers are good without God. Are you?" will advertise the group's Web site, which features a list of affiliated organizations.
The Big Apple COR is affiliated with the larger Coalition For Reason, which professes a conciliatory attitude towards religion. The group's website says that it's working to "increase awareness of secular-minded groups" while also providing a social base for atheists.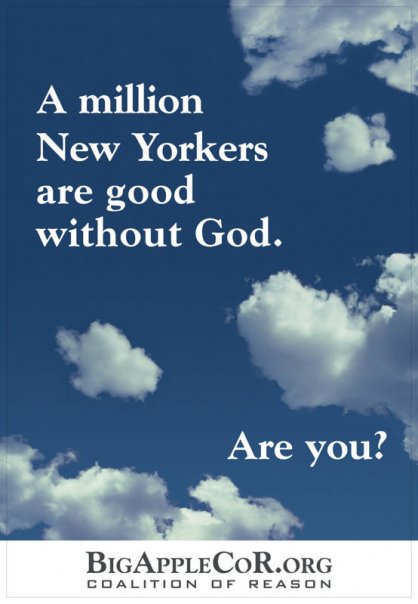 Get HuffPost New York On Facebook and Twitter!

Know something we don't? E-mail us at NYTips@huffingtonpost.com
SUBSCRIBE TO & FOLLOW THE MORNING EMAIL
The Morning Email helps you start your workday with everything you need to know: breaking news, entertainment and a dash of fun. Learn more