10/29 UPDATE:
The "Today Show"'s Norah O'Donnell covered the story this morning.
10/28 UPDATE:The New York Times has posted the November 1st cover story "The First Marriage," by Washington correspondent Jodi Kantor online.
Here are a few highlights from the story:
*President Obama's wedding ring is an intricate Indonesian gold design. See a CLOSE-UP of it here.
*Mrs. Obama is the second woman he took home to meet his family in Hawaii.
*A friend described Michelle's warmth by saying "She is really Bill, and he is really Hillary."
*Kantor reports that "friends who visit the White House describe occasionally turning corners to find the first couple mid-embrace."
*The president reads aloud with his children in the evenings, and he and Sasha are currently reading "The Life Of Pi."
*Mrs. Obama won't allow the girls to have cell phones.
*Weekend activities entail movies, Scrabble games, and children's talent shows.
*Relatives will take Sasha and Malia to the bookstore or multiplex, since their parents can't move around freely.
*The family recently finished redecorating the White House. The first lady requested an outdoor rocking chair for her husband to read in.
On the downside to "date nights":
"I would say the one time during our stay here in the White House so far that has. . . ." He paused so long in choosing his words that Michelle Obama, sitting alongside him, prompted him. "Has what?"

"Annoyed me," the president answered.

"Don't say it!" the first lady mock-warned. "Uh-oh."

"Was when I took Michelle to New York and people made it into a political issue," he continued, recalling the evening last spring when they flew to New York for dinner and a show, eliciting Republican gibes for spending federal money on their own entertainment.
On whether they ever considered divorce:
"That's overreading it," the president said. "But I wouldn't gloss over the fact that that was a tough time for us."

Did you ever seek counseling? I asked.

The first lady looked solemnly at the president. He said: "You know, I mean, I think that it was important for us to work this through. . . . There was no point where I was fearful for our marriage. There were points in time where I was fearful that Michelle just really didn't -- that she would be unhappy."
On what they're saying when they're photographed whispering to each other:
In September, as they waited to greet a long, slow procession of foreign dignitaries and their spouses at the Group of 20 Summit in Pittsburgh, the first lady whispered in her husband's ear about things "that I probably shouldn't repeat," he said.

"She can puncture the balloon of this," he added, making him feel like the same person he was 5 or 10 years ago.
10/27:
The Obamas sat down to discuss their union in the New York Times Magazine's November 1st cover story "The First Marriage," by Washington correspondent Jodi Kantor.
According to the NYT press release:
"Clearly, the Obamas prefer to think of themselves as largely unaltered. 'The strengths and challenges of our marriage don't change because we move to a different address,' the first lady said, the president studying the carpet as she answered. But even as they serve as sources of continuity for each other, their own partnership is undergoing significant change, not just in outward circumstance -- the city, the exposure, the security, the staff, the house and so on -- but far more fundamentally. Michelle Obama has gone from political skeptic to political partner to a woman with a White House agenda of her own, and an approval rating higher than the president's." - "The First Marriage" by Jodi Kantor

COVER STORY - New York Times Washington correspondent Jodi Kantor sat with the President and First Lady in an Oval Office interview about the effects of the presidency on their marriage. The Obamas have recast the rules for how a politician and spouse are supposed to behave, primarily by speaking frankly about their marriage - "The bumps happen to everybody..." says Michelle Obama.
One secret to the first couple's success is maintaining a regular date night. See a slideshow of their "Sexy Saturdays" here. They're also famous for their public displays of affection, so much so that we've made an Obama PDA Big News page.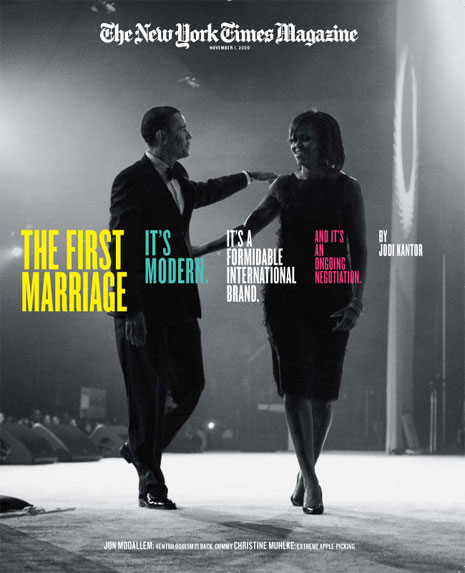 Who Is The Ultimate Game Changer In Style? VOTE NOW!
And follow HuffPost Style on Twitter and become a fan of HuffPost Style on Facebookwhile you're at it.