"This Loan Is An Example Of What Went Wrong In America"
Last December, Virginia Naill learned that the monthly mortgage payment for her three-bedroom home on Ordinary Road in tiny Mineral, Va., would jump by hundreds of dollars.
"I started crying," she said, "'Oh no, what did I do?'"
In 2006, it turned out, she'd unwittingly gotten herself into an adjustable-rate mortgage with a two-year teaser rate. As a result, in December, the interest rate shot up from 7.5 percent to just over 10.1 percent, and the monthly payment on her $280,000 loan went from $1,800 to more than $2,300. She and her husband didn't know how they were going to pay it.
Naill, 50, thought she'd refinanced into a fixed-rate mortgage. Back in 2006, that's what she'd told the broker she wanted. But she signed the documents that were put in front of her, and what she got was a case study in irresponsible lending -- a debt trap that even the broker has admitted was based on a fraudulent application.
Naill works at a Wal-Mart distribution center. Her husband, Donald Naill, is a roofing contractor. "They knowed me and my husband were illiterate, that we had a hard time reading and understanding what we read," Naill told the Huffington Post. "We told 'em straight up they'd have to read it to us, and they said that they would."
In a September deposition for a lawsuit filed on behalf of Donald Naill, the Naills' broker said she knew the loan application contained bogus information -- an inflated income statement that qualified them for a loan virtually guaranteed to blow up in Virginia Naill's face when the interest rate adjusted.
"This loan is an example of what went wrong in America," said Tom Domonoske, a lawyer on contract for the Virginia Legal Aid Justice Center who is representing Donald Naill in the lawsuit against the broker, Lincoln Mortgage. Through the lawsuit, Domonoske obtained documents showing how the loan was put together.
The Naills first refinanced their mortgage in 2005, when Lincoln Mortgage, which had been recommended by a friend, cobbled together an unusual deal. The Naills owned another house in Mineral (a town of under 500 people about an hour from Richmond) where one of their grown sons lived and paid rent. To inflate the size of their new loan, said Domonoske, the broker had the Naills borrow to pay off the $138,000 mortgage on their son's house and pile the debt onto their own house, on which they owed less than $50,000.
The Naills wound up with one much larger $250,000 mortgage, the additional debt either covering other liabilities or providing cash. Virginia Naill said she does not remember exactly why she refinanced the way she did or what she got out of it. All she remembers is that it was a snap.
"A friend told me about Lincoln Mortgage and she took me over to meet 'em," said Virginia Naill, "and then one lady called and got some information and said, 'Come in and we're gonna close 'em.'"
Domonoske, the attorney, called the arrangement "bizarre."
"I've just never seen any transaction where they refinanced a loan from another piece of property without also taking a security interest on the other piece of property," he said. But there was nothing bizarre about why the broker wanted to do it that way: "The broker added that other one to inflate the size of the loan so they could get a higher commission."
Lincoln Mortgage did not respond to multiple requests for comment left at its Winchester, Va., office or with its lawyer. Multiple attempts to reach the broker were unsuccessful.
When Virginia Naill reconnected with Lincoln Mortgage in 2006, she wanted a fixed rate. The broker, a woman named Monica Gregory (who has since left the company), started off by making notes on the 2005 loan application based on conversations with the Naills, which the lawyers obtained in the process of the lawsuit. Beneath a field indicating that the existing loan had an adjustable rate, Gregory wrote, "Want a fixed rate this time!!"

"That's what they wanted at the time that, maybe, we had the conversation," said Gregory in a September deposition with Domonoske, according to a transcript. "But it may not have been exactly what they got in the end. And that would have been disclosed to them."
On their 2005 loan, the Naills' combined monthly income was correctly listed as being just shy of $4,000, most of it earned by Virginia Naill. That number was backed up by a verification form signed by her boss at Wal-Mart.
But in 2006, someone at Lincoln Mortgage put in a new number: $5,459, all of it ostensibly from Virginia.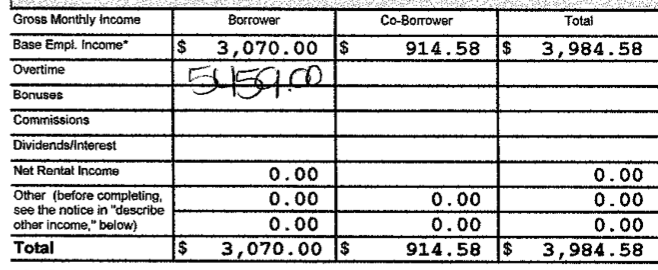 Here it is in the final application: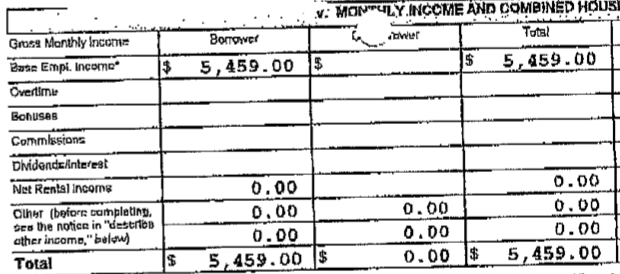 The number was a complete fabrication. During her deposition, Gregory spoke candidly about how she put together "stated-income" loans (also known as "liars' loans") like this one.
"It was a stated deal on this particular one, so -- and again, the Naills knew that we was doing a stated deal. So, and of course, we always -- I always, anyway, told my client that, 'If you're getting a stated deal, you know we're stating your income. So you all need to make sure that you're going to be able to abide by making your monthly payment.' "
The stated-income scheme, in which the application was sent to the lender without paystubs or tax returns or any proof of the borrower's income, made Gregory uncomfortable. "I did very few of them, because I actually did not like doing them," she said, "because it was stating their income, because it's not actually what they were actually making."
But lenders, who would simply sell the loan to investors, had a huge, indiscriminate appetite for borrowers.