Al-Qaeda Publishes "Dense Little Bastard Of A Magazine"
Over at True/Slant, Neal Ungerleider tells us that al Qaeda, apparently heedless of the recessionary downturn that's felled so many publications in the freedom-loving world, is currently publishing a pair of magazines. If print media doesn't die, it could kill you!
Sada al-Malahim (The Echo of Battle) and Sada al-Jihad (The Echo of Jihad) are two magazines produced by Al-Qaeda of the Arabian Peninsula. Available on various jihadist Internet outposts, these publications are disseminated as print-to-read PDFs. Ungerleider reports that "Issue 11 of Sada al-Malahim," which is shown in the picture below, is a "dense little bastard of a magazine, clocking in at 73 pages of text, graphics and basic-Pagemaker design. As one might expect; al-Qaeda magazines don't include such kuffar innovations as advertising." It's pretty Conde Nasty, largely featuring a flattering profile of the bomber who attempted the August 2009 assassination of Saudi Prince Mohammed bin Nayef, extolling the violence as an example for future terrorists to follow.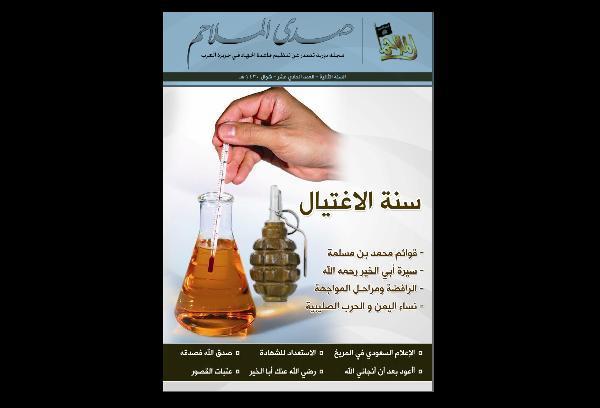 Charming.
According to Ungerleider, the magazine "devotes a fair amount of space to arguing internal politics within the movement and justifying the latest public statements of leaders." As Alex Balk quips: "So it's kind of like the Weekly Standard!"
[Would you like to follow me on Twitter? Because why not? Also, please send tips to tv@huffingtonpost.com -- learn more about our media monitoring project here.]