*** SCROLL DOWN FOR PHOTO & VIDEO ***
UPDATE, 5:35 PM: ProFootballTalk reports that the NFL fined Bud Adams $250,000.
UPDATE, 12:21 PM: Adams issued the following statement:
"I need to apologize for my actions yesterday near the end of the game. I got caught up in the excitement of a great day, but I do realize that those types of things shouldn't happen. I need to specifically apologize to the Bills, their fans, our fans and the NFL. I obviously have a great deal of respect for Ralph Wilson and the history we have shared. I also understand there will probably be league discipline for my actions and I will accept those."
UPDATE, 12:10 PM: Chris Mortenson reports that Bud Adams "has issued an apology for the bird action. Expects discipline."
EARLIER:
(AP) NASHVILLE, Tenn. -- The NFL is looking into reports Tennessee owner Bud Adams made an obscene hand gesture from his luxury suite and from the field while celebrating his Titans' 41-17 win over Buffalo.

WTVF-TV reports Adams flipped the middle finger on both hands from his luxury suite. The Tennessean newspaper reported Adams also was seen making the gesture again on the field after the game.

NFL commissioner Roger Goodell was at the game Sunday after having breakfast with Adams.

The league said Monday that Goodell left Adams' suite at the end of the third quarter and spent the fourth quarter sitting with fans in the end zone before leaving the stadium.

The Titans did not immediately return a message from The Associated Press on Monday.
LOOK: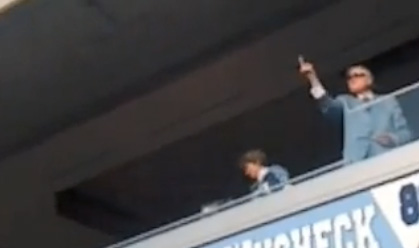 FOLLOW HUFFPOST