*Scroll down for pool report*
Looks like First Lady Michelle Obama got the memo saying that bright colors are embraced by Indian culture. Mrs. Obama wore a bright orange suit designed by Isaac Mizrahi and dangly earrings. Gursharan Kaur, Prime Minister Singh's wife, wore a green sari.
Hillary Clinton and SLOTUS Jill Biden also looked vibrant in bright red and blue, respectively.
The first lady later revealed a sleeveless dress during a meeting with Mrs. Gursharan Kaur in the Yellow Oval Room of the White House ((Official White House Photo by Samantha Appleton):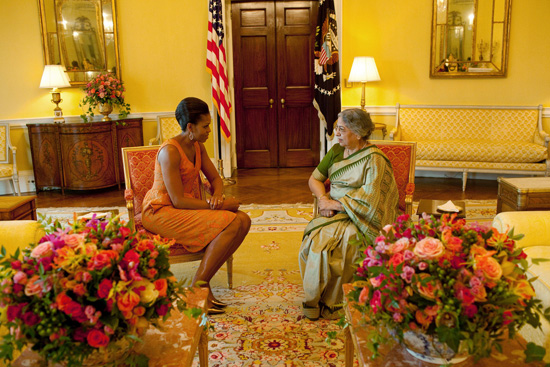 Photos of the arrival ceremony by Getty: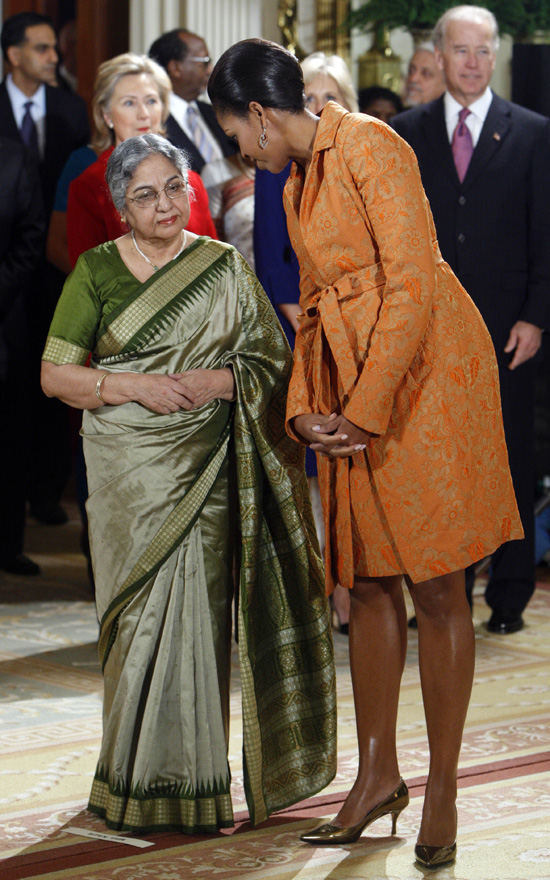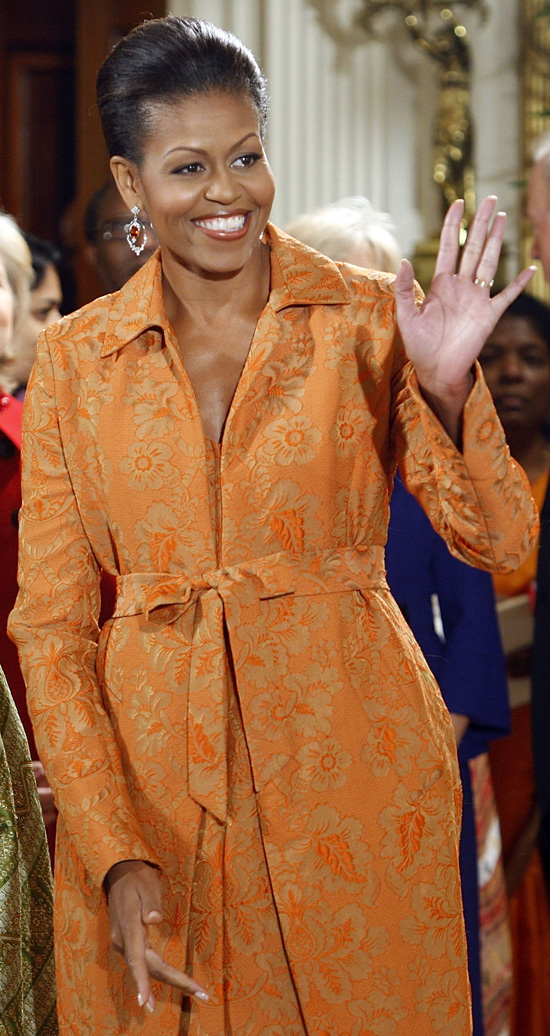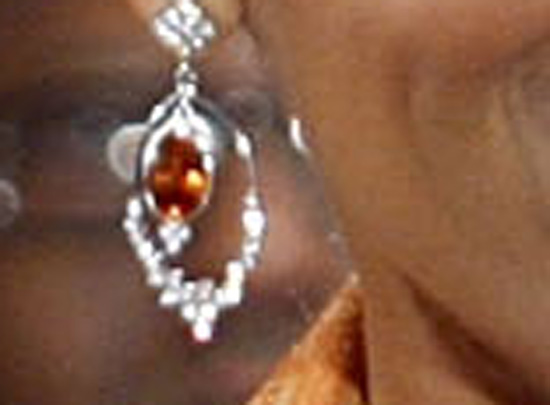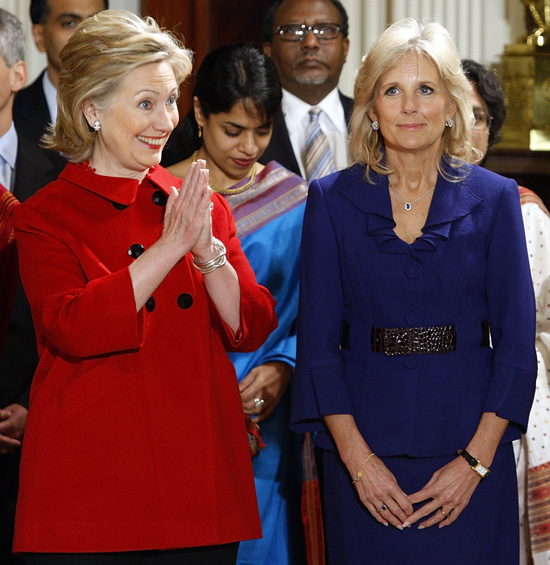 From the pool report by Politico's Carol Lee:
President Obama and First Lady Michelle Obama welcome Prime Minister Singh of India and India's first lady, Gursharan Kaur

An abbreviated arrival ceremony kicked off POTUS's first official visit. The event was held in the East Room instead of on the South Lawn because of rain.

Pool was led into the East Room at 8:35 a.m. A crowd was already in place, standing behind a rope on the north side of the room, to the left of the stage where POTUS and Singh spoke. Some of them were schoolchildren from DC-area schools. Many of them were holding programs decorated with the presidential seal and small American and Indian flags. White House said there were roughly 200 of them. WH also provided the names of the U.S. Welcoming Committee to your pooler, which is below.

A few people your pooler spotted in the crowd: CNN's Sanjay Gupta, actress Alfre Woodard, actor Blair Underwood, Rep. Joseph Crowley of New York, and a couple helpful photographers told your pooler they spotted Sen. Jack Reed of Rhode Island, and Sam Kass, White House chef standing in the back wearing a suit.

The room was set up so that the podium where POTUS and Singh spoke faced East, toward cameras, photographers and reporters, with Cross Hall behind them. There were three sets of American and Indian flags in the room - two pairs behind the podium and one pair to the left of the podium in the back of the room in front of reporters.

Around 8:55 a.m. some members of the Indian delegation entered the East Room from the Green Room and stood along the South Wall in front of the gold curtains.

Members of the U.S. delegation began streaming in soon after, including COS Rahm Emanuel and Gen. Jim Jones, who stood next to each other and shook hands.

Next Vice President Biden, his wife Jill Biden, and Secretary of State Hillary Clinton entered from the Green Room. Clinton wore a bright red jacket with black buttons and black slacks. At one point, she appeared to recognize someone across the room (where the crowd of 200 stood) and clasped her hands together, smiled and nodded twice. Someone shouted "Hillary."

Jill Biden wore a purple dress. VPOTUS and Clinton chitchatted.

Shortly after, FLOTUS entered with Kaur, who wore a green sari. FLOTUS wore an orange embroidered Isaac Mizrahi ensemble, a coat worn over a dress, with a sash tied in a bow around her waist. The pattern was fall festive, leaves. Her hair was swept back and she paired the outfit with drop earrings and copper pumps.

FLOTUS and Kaur greeted VPOTUS, Jill Biden and Clinton before taking their positions on the carpet, off the stage to the right.

From her perch, FLOTUS waved to the guests on the other side of the room, and chatted with Kaur.

POTUS and Singh entered the East Room from Cross Hall at 9:22 a.m. to the tune of Hail to the Chief. The two leaders stood on a stage lined in ferns a few steps behind a podium that was adorned with a seal that did not include the words "President of the United States." First the Indian national anthem played. Both leaders kept their hands to their sides. FLOTUS held hers clasped in front of her. POTUS stared at the pair of Indian and American flags in the back of the room to the left, where all the photographers and reporters were. Singh looked straight ahead.

As the tune segued to the American national anthem, POTUS placed his right hand on his heart.

At the end of the anthem, POTUS nodded and stepped to podium. He began speaking at 9:26 a.m. and spoke for about 5 minutes. Remarks have already gone out.

POTUS received applause when he acknowledged that India is his first state guest, telling Singh it's "fitting that you and India be so recognized." As POTUS spoke, Singh stood to his right, and nodded.

After concluding his remarks, POTUS shook hands with Singh and turned the podium over to him. Applauding, FLOTUS looked at Kaur, who was also applauding and who nodded in approval. Singh's aide handed him his remarks, which Singh placed on the podium and said he was "deeply honored" to be POTUS's first state dinner guest.

"This is a moment of great opportunity in our relationship," Singh said.

After Singh finished his remarks, POTUS shook his hand and told him, "Thank you so much." POTUS looked to an aide for direction. Then the two leaders turned to exit back out through Cross Hall. Singh had taken his notes from the podium and was carrying them with him, then changed his mind and turned back around to place them on the podium. POTUS waited for him and hten placed his hand on Singh's back as they exited.

Then first ladies exited next, followed by the delegations.

Reporters and the 200 guests who had been standing behind the ropes were left in the East Room. Pool was held until 9:55 a.m.

There was a crush to take photos at the podium and Blair Underwood was mobbed by really excited schoolchildren. He spent 20 minutes, signing autographs and posing for pictures.

The group stage left (approx 200 people) is comprised of Members of Congress, Embassy Guests, and about 50 students from Walker Jones Educational Campus and Schools Without Walls (both in DC).

Stage right: US Welcoming Committee, Official Indian Delegation, and the Embassy of India Welcoming Committee.

Members of the US Welcoming Committee:

· William J. Lynn, Deputy Secretary of Defense

· James E. "Hoss" Cartwright, Vice Chairman of the Joint Chiefs of Staff

· Chief of Staff Rahm I. Emanuel

· Ambassador Roble Olhaye, Ambassador of the Republic of Djibouti and Dean of the Diplomatic Corps

o Under Secretary Maria Otero
o Under Secretary Hormats
o Ambassador Timothy Roemer
o Mayor Adrian Fenty
o Mrs. Michelle Fenty
o Assistant Secretary Verma
o Assistant Secretary Robert Blake
o Mr. Alonzo L. Fulgham
o City Council Chairman Vincent C. Gray
o Mrs. Loretta Gray
Get HuffPost Style on Twitter and Facebook!
SUBSCRIBE TO & FOLLOW LIFESTYLE
HuffPost Lifestyle is a daily newsletter that will make you happier and healthier — one email at a time. Learn more