UPDATE: A member of the Windows PR team issued this statement regarding the Twitter feeds posted in the Saks Fifth Avenue holiday window display:
Important to note that the windows are the private property of Saks Fifth Avenue. As such, there are filters in place to make sure that in opening them up to Twitter feeds we had content that was appropriate for the general public to view and was within the holiday theme. This filter includes any attempt to spam the windows with negative commentary that is not in the spirit of the holidays. The windows have not been hijacked in any way.
------------------------------------
In an effort to promote its new software, Microsoft teamed up with New York's Saks Fifth Avenue store to help build Windows 7-powered holiday windows and to create a PC-themed lounge for shoppers.
Unfortunately for Microsoft, Mac lovers have tried to usurp part of the Saks Fifth Avenue window display and use it to promote Apple, and put-down Windows.
Here's how:
The Saks windows, which were inspired by scenes from the kids' book "Twinkle, Twinkle, Little Flake," also feature a live Twitter feed that displays a stream of real-time Tweets tagged with the hashtag "#holidaywindows." These posts are all displayed, very publicly, on the Windows 7 holiday Windows right off of Manhattan's Fifth Avenue.
The Twitter feed was intended for customers to share their holiday wishes on the Microsoft-sponsored 50th street window.
Mac-loving Twitterers, however, have been using the hashtag to Tweet out how much they adore Apple products, to criticize Microsoft, and to point out Windows' flaws.
See the screenshot below for an example of what's been said about "#holidaywindows", and follow the Twitter feed below for more real-time updates.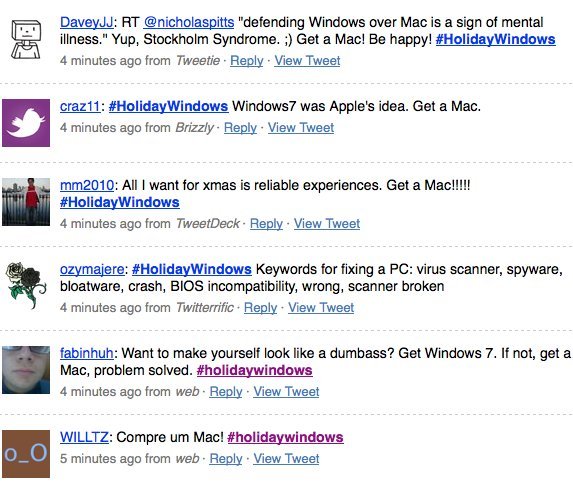 And from Gizmodo: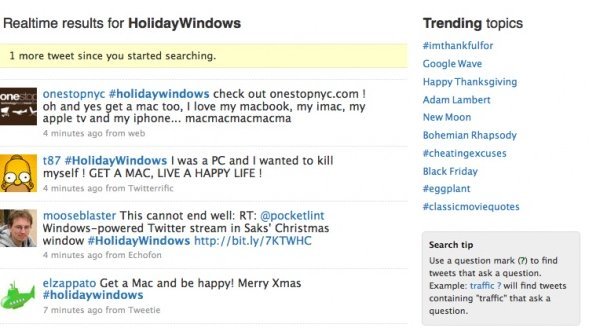 See photos of Microsoft's Windows 7 holiday display at Saks below.
Here's a shot of the live Twitter feed broadcasting Tweets with the hastag "#holidaywindows." Tweets have included: "@foresmac: A 27" iMac would make the ultimate Christmas gift this year! #holidaywindows" and "@eth0: #holidaywindows This store is closed.U must go now to 58th Street and 5th Ave and buy there.Yes, that sexy crystal cube, go inside."

Saks Fifth Avenue is hosting a lounge filled with Windows 7-based PCs that showcase Microsoft's new operating system. Microsoft explains in a Press Release, "On floors 8 and 9, specially constructed lounges will house Windows 7 PCs where customers can experience Windows 7 first hand on new PCs and ask Microsoft experts questions about both the hardware and software features."

This year's Saks windows were inspired by scenes from the children's book Twinkle, Twinkle Little Flake, which is animated with 20 synced video monitors showing 3D animation, as well as a voiceover of the story that can be heard by people outside the store. Windows 7 was used to "power" the display.

A view of Saks Fifth Avenue's holiday decorations.

Broadway performer Kristin Chenoweth sings during the Saks Fifth Avenue NYC holiday window unveiling.

A close-up look at one of Saks's holiday windows. The monitor below is powered with Windows 7.

A selection of #holidaywindows Tweets from Twitter.