A mini-controversy emerged after Monday night's game between the Tennessee Titans and Houston Texans. It appeared that Titans quarterback Vince Young high-fived referee Jerome Boger as the game ended. According to the Houston Chronicle, the NFL says that the entire episode was a misunderstanding which began when Boger properly signaled the end of the play by elevating his right arm:
"As Young turned around, he saw Boger approaching the line of scrimmage with his arm raised. "As Boger moved toward the line of scrimmage, he started to bring his arm down. However, before he lowered his arm, Young, moving towards the referee, raised his own arm and the two exchanged what appeared to be a quick high-five," the spokesman added.
Check out the Chronicle story for more. Titans coach Jeff Fisher tells the Tennessean that "it's just one of those things that happens." Below, see a photo of the incident.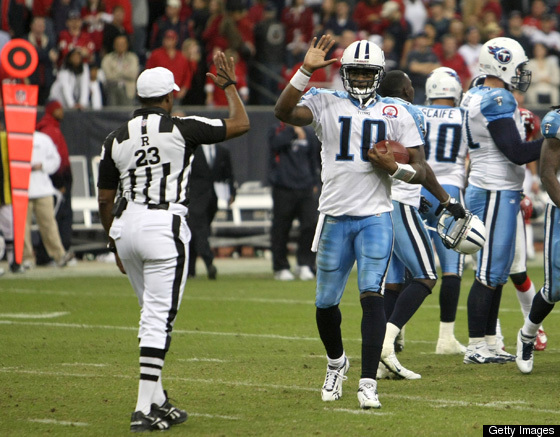 SUBSCRIBE AND FOLLOW
Get top stories and blog posts emailed to me each day. Newsletters may offer personalized content or advertisements.
Learn more