On the occasion of President Barack Obama's acceptance of the Nobel Peace Prize, Fox News set up a poll on their website that is just a thing of wonder, the way it is constructed.
The poll is headlined, thusly: "Does Obama Deserve the Nobel Peace Prize?" That tends to set up the conceit that respondents will be answering that question, straight up or down. Now, if your eyes don't immediately jump down to the interactive poll module, you might catch this text:
As he accepted the Nobel Peace Prize in Norway on Thursday, President Obama acknowledged that "compared to some of the giants of history who have received this prize... my accomplishments are slight." After watching his speech in Norway do you agree?
So, now, you're thinking, "Okay, I will be answering, yes or no, to whether I agree with Obama that his "accomplishments are slight." And that's a fair question! But then you get to the poll itself!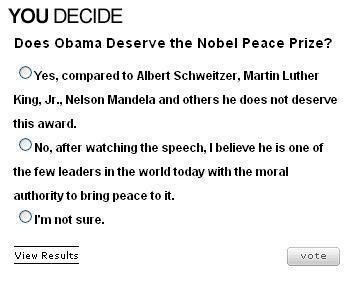 Of course, the disclaimer reads: "This is not a scientific poll." Let us know, readers! Do you think this is a scientific poll?
UPDATE: And now it's changed!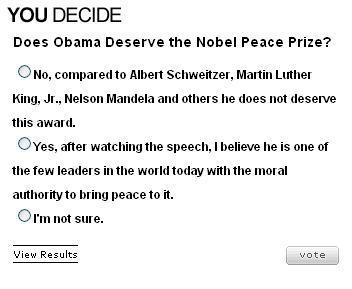 I still sort of want to know about the muffins, though!
RELATED:
Something Is Wrong When 81% Of Fox Newsers Are Voting 'Yes' To This Question [Wonkette]
[Would you like to follow me on Twitter? Because why not? Also, please send tips to tv@huffingtonpost.com -- learn more about our media monitoring project here.]