Last week, an airline mocked Tiger Woods' car accident with an "Eye of the Tiger Sale," complete with a graphic of an SUV crashing into a fire hydrant. Now another business has ramped up their marketing with a Tiger Woods-themed campaign.
The Syracuse Crunch, a minor league hockey team in the American Hockey League (and an affiliate of the NHL's Columbus Blue Jackets), is offering fans a "Tiger Woods Foursome," an irresistible offer that packages four December tickets for $60 and includes a $100 gift certificate for auto body work. The accompanying promotional image shows a car -- not an SUV -- wrecked after colliding with a set of golf clubs.
While Tiger Woods has not yet been reported to have had a foursome, he certainly has been linked to his fair share of women and even reportedly dreamed about an alleged mistress having a threesome with Derek Jeter and Bones star David Boreanaz.
While this makes at least two ad campaigns that have poked fun at the golfer, Woods is facing a threat of his actual sponsors bolting from him. Gatorade announced that it would discontinue its Tiger Focus beverage, while the watchmaker Tag Heuer has allegedly removed its Woods placards in Australian stores. This follows reports that commercials featuring Woods have virtually disappeared from primetime television.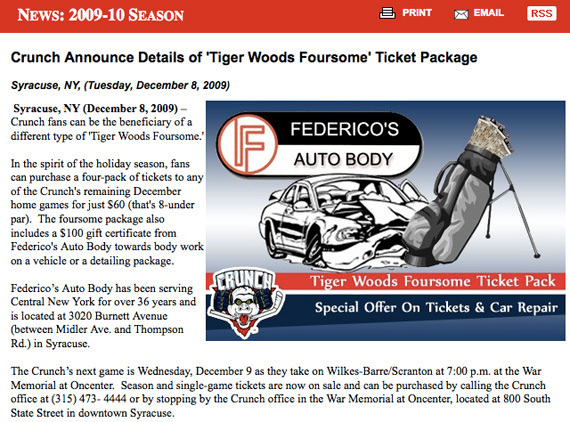 SUBSCRIBE TO & FOLLOW THE MORNING EMAIL
The Morning Email helps you start your workday with everything you need to know: breaking news, entertainment and a dash of fun. Learn more