First, there was the swine flu robot -- a sweating humanoid 'patient' that behaved like a person infected with H1N1. It doesn't stop there.
Now, the University of Tsukuba has developed Yotaro, a baby simulator.
Yotaro, larger than a life-sized baby, vaguely resembles a stuffed animal with an interactive, animated screen for a face. The robotic baby can respond to stimuli, like touching or rubbing, and can display different emotions, going so far as to cry "real" tears from its 2D face.
The diagram below, from Design Boom, highlights the mechanism used to control the robotic baby simulator.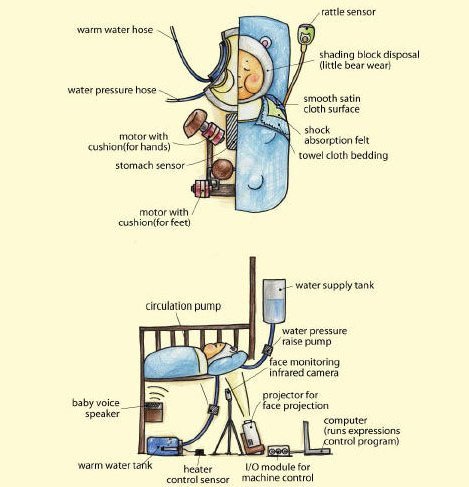 Gizmodo describes Yotaro as "1,000 times creepier than a normal baby."
See Yotaro 'in action' in the videos below.

WATCH:

WATCH: