Never Give Up: How The Son Of A World Trade Center Hero Decided Nothing Would Keep Him Down
By Luke Mullins
Special to the Huffington Post
Introduction
With as many as 1,700 students pursuing just 32 slots, the chances of winning a Rhodes Scholarship are impossibly remote. For Joey Graziano, a working-class kid from Long Island, the odds were even worse.
When his father staggered out of the World Trade Center minutes before its collapse killed every other firefighter in his unit, Joey's dreams seemed to perish as well. Instead of that baseball scholarship, his most pressing concern became his father's well-being. But after the college coaches stopped calling, an influential circle of lawyers was so impressed by Joey's grit that they engineered his admittance to Georgetown University even though the application deadline had passed. On the baseball field, Joey came back from one wincing injury after another -- like the line drive that shattered his jaw, smashed six teeth, and severed a nerve. And although he was the first-ever Graziano to attend college, Joey's 3.9 grade point average helped make him a candidate for the world's most prestigious fellowship.
Without the elite background of many applicants, Joey struggled to prepare for the Rhodes competition: pulling all-nighters in the library, visiting art museums, and completing the fellowship office's sometimes curious exercises. And despite numerous setbacks , when he arrived at the St. Regis Hotel in November of 2007, Joey was one of eleven finalists competing for two Rhodes Scholarships.
"Go get 'em Joe!" a teacher said.
Luke Mullins, an associate editor at U.S. News & World Report, met Joey in December of 2007 while working on another story. This account of Joey's life from September 10, 2001 to November of 2009 is based on nearly two years of reporting, including interviews with Joey, his family, and more than 40 other people Joey came in contact with along the way. Luke Mullins can be reached at lmullins@usnews.com.
The Reception
Joey Graziano pushed through the revolving glass doors of New York's St. Regis Hotel on Friday Nov. 16, 2007. With his heels clicking on the marble floor, he walked past bellhops in white gloves to the elevator bank around the corner. As he waited for the doors to open, a silver-haired man turned to him and smiled.
"Excuse me," the man said. "Are you here for the Rhodes?"
"I am," Joey replied.
The two shook hands and introduced themselves. "Pete Dawkins," the man said.
"The same Pete Dawkins who won the Heisman Trophy and the Rhodes Scholarship?" Joey asked.
Dawkins laughed. "The only one I know."
The two stepped into the elevator and headed up together.
Even then, as he marched into the competition's final stage, it was hard for Joey to believe he had made it this far. As the first Graziano to attend college, Joey lacked the privileged roots that many Rhodes Scholarship candidates enjoy. His dark blue suit -- the first he'd ever owned -- had wiped out his bank account. During his intense preparation for the weekend, he struggled to come across as the summa cum laude student he was, and not the "man-of-the-street type who seemed never to have read a book" that his fellowship advisor once said he appeared to be. The injuries he had sustained on the baseball field were healing well enough, but he still had to cut hamburgers into little pieces to eat them. And although several years had passed, the heartbreak that ripped through his family in one terrifying instant remained raw. But on that day, none of it mattered.

I
The last thing Joey told his father on Monday, September 10, 2001, was: "Fuck you. You never went to college, what do you know?" Joey then stormed upstairs and slammed the door behind him. He didn't leave his bedroom for the rest of the evening.
It wasn't like Joey to spit hurtful words at his father, a man he had idolized since he was old enough to have heroes. Even as a high school senior -- when most of his peers ducked any sort of interaction with their parents -- Joey still considered his father his best friend.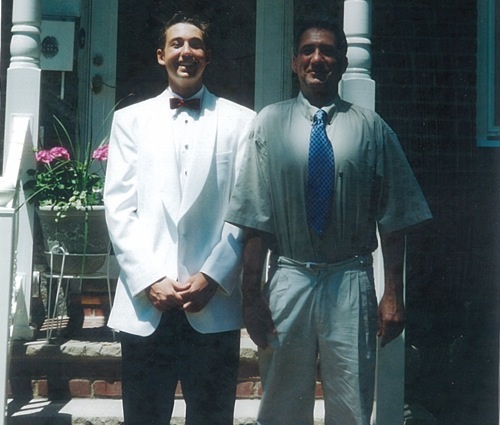 Joey with his father on the day of his high school graduation.
The argument had sprung from a phone message. The coach of a local college had called Joey, again, to gauge his interest in playing shortstop for him next year. But the tiny program wasn't what Joey had in mind when he threw baseballs against a cement wall in the freezing cold, or took dry cuts against the chain link fence outside his house. Joey was more interested in phone calls from the other, higher-profile universities--like West Virginia or Princeton-- that had taken an interest in him.
"I'm not calling him back," Joey announced.
"Yes you are," his father, Joe Sr., replied.
Things escalated from there.
After a couple hours in his room, Joey saw the argument differently. His father just wanted him to do the right thing, and Joey had acted like a 17-year-old jerk, he thought to himself. Recalling his remarks, he felt a trickle of guilt welling inside him. No big deal, Joey assured himself, he could apologize in the morning.
* * * * * * * * * *
Joey and his father always had baseball. In Floral Park, N.Y. -- a town of brick homes and backyards just over the border from Queens in Nassau County, Long Island -- lacrosse was the big sport. So for Little League, Joey's parents took him into Queens to play with the children of firemen, plumbers, cops and construction workers. "I always joked to his father that Joey was the real coach," Patrick McNally, Joey's old Little League coach and the New York City Fire Department's former chief of operations, later recalled. "I was just there to drive the bus and pay for the post-game pizza."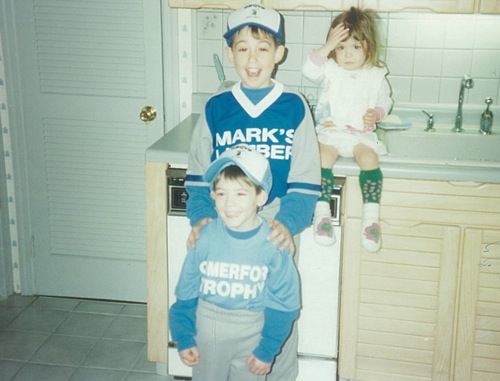 Joey with his brother and sister before a youth baseball game.
At Joe Sr.'s firehouse, Thursday softball games were serious business -- so important that oftentimes Joey was allowed to stay home from grammar school to tag along. The firemen looked tough and played hard, but each treated Joey like his own son: hitting him grounders between innings and tossing batting practice after games. "I didn't want to grow up to be some Major Leaguer," Joey said. "I wanted to grow up to be like these guys -- play like they played." And Joey's reverence for his father was unmatched. To the other firemen, Joe Sr. was a 5'11" guy with olive skin and droopy eyes, but to young Joey he was a giant. Every time his father took his position at third base, Joey trotted around home plate and plopped down next to him, maybe five feet into foul territory. When opposing players worried that the youngster might get drilled by a hard-hit ball, Joe Sr. insisted he'd protect him.
Joe Sr. was a third-generation Italian who didn't consider himself anything other than American. Although his gold chains and New York accent suggested toughness, Joe Sr. was a soft-spoken, gentle father who liked to cook dinner for the firehouse. When he first met a cute nurse named Dolores in 1980, Joe Sr. was a 26-year-old bar owner, a line of work he went into after stuffing away enough cash from his years laying railroad track. Dolores, then 22, was one of six children from an Irish Catholic family in Queens. And the hard-drinking establishment called Easy Street didn't seem like the kind of business to build a family on. So before she agreed to marry him, Dolores made Joe Sr. pledge to find a new job. He joined the New York City Fire Department in 1984, the same year Joey was born. Three more children would follow.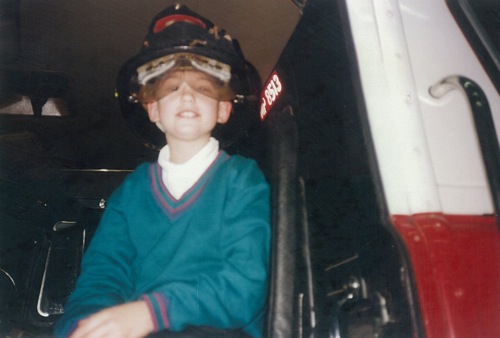 Joey sits in his father's fire truck with a fireman's helmet on.
Although only 5'5" and less than 120 pounds, Dolores Graziano is a howitzer of maternal discipline and working-class charm. "The only woman I've ever been afraid of," Joey said. Her kids would get everything they'd need to succeed, but she'd be damned if they weren't going to work for it. Joey spent his high school years breaking up fist fights at Halligan's Pub, one of two bars his father owned on the side. And when she finally agreed to have that swimming pool built out back, Dolores handed her kids some shovels and told them to start digging. Still, nothing was more important than school. And if Joey wanted to play ball, he had better bring home those marks.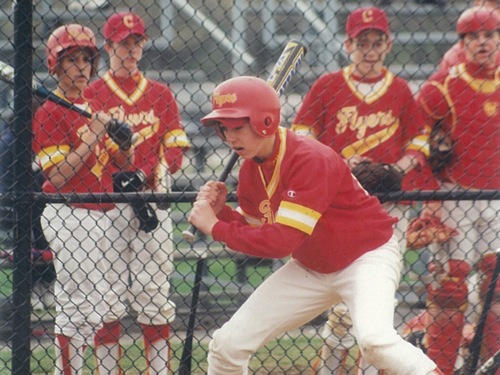 Joey takes a pitch during a high school game.
Schoolwork became nearly as important to Joey as baseball, and after his 8th grade year he left the public school system to attend Long Island's premier Catholic school, the all-boys Chaminade High School. Joey was an intense student; no matter how late he had to stay up to do it, he almost always got As. "He wasn't the smartest kid, but he wouldn't let himself get lower than a 99, 98 average," recalled Terence Malone, a high school classmate of Joey's. "He put more work in than anybody." Joey earned a 1380 on his SATs. And while the guys at the firehouse were thrilled when Joey grew into Chaminade's star shortstop -- and just ecstatic when college coaches started contacting him -- they never quite knew what to make of his classroom success. "His talents brought him into an elite academic environment that none of us has seen," McNally, Joey's Little League coach, recalled. "This isn't always the easiest way to gain respect among the boys. But Joey has always had everyone's respect."
* * * * * * * * * *
It was third period, physics lab, when the president of the school came over the loud speaker to tell the students about an airplane hitting the World Trade Center. Chaminade did not allow cell phones on its grounds. Rumors got moving in a hurry. Is it true that the Army is sending up fighter jets to take out commercial airplanes? Soon, the school allowed students with relatives working at the World Trade Center to convene in the library. But Joey remained in class. Later that morning, he took his history test as scheduled.
It wasn't until noon that Joey saw the images of the Towers. Although stunned, he had no reason to think that this -- whatever it was -- could reach him directly. His father had been on the scene after the 1993 World Trade Center bombing and he'd made it back just fine.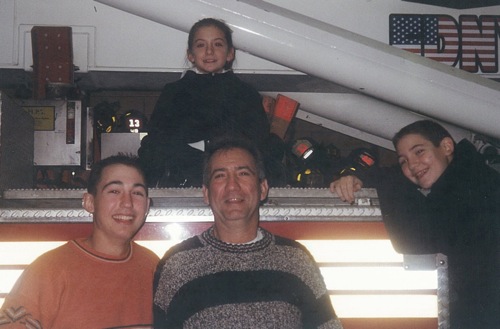 Joey with his father, brother and sister at his father's firehouse.
That afternoon, Joey got a ride home from his buddy Terence. Along the way, the two listened to radio reports of the day's still-unfolding tragedy. News stories of the frantic rescue efforts made Joey uneasy.
When they arrived at his street, Joey recognized the vehicles of his mother's three sisters parked outside. His heart stopped.
Terence watched Joey walk to the side entrance of the home, where his mother was waiting for him. After a quick exchange, Joey dropped his bookbag to the ground.
"We don't know where he is," he told Terence. "We know he went up."
II
Each year, as many as 1,700 gifted students pursue a Rhodes Scholarship, the world's oldest and most prestigious international fellowship. With only 32 slots, the odds of being selected are impossibly remote, but not quite zero. In choosing recipients, selection committees apply the principles of Cecil J. Rhodes, the colonial diamond magnate whose will established the fellowship program in 1902. Instead of "mere bookworms," the committees seek men -- and, as of 1976, women -- with the intellectual rigor and depth of character to fight "the world's fight." Committees evaluate students not only on their scholastic achievements, but on leadership, ambition, character, concern for the less fortunate, and athletic participation. "It's an inherently subjective judgment that our selectors make," said Elliot Gerson, the Rhodes Trust's American secretary. "But we are looking for people who are going to make a difference in the world."
In 1904, the first American Rhodes Scholars arrived at the University of Oxford for two years of study. Ever since then, recipients have gone on to become central figures in government, business, law, medicine, journalism, and the arts. Rhodes Scholars include President Bill Clinton, former senator and NBA all-star Bill Bradley, U.S. Ambassador to the United Nations Susan Rice, political television host George Stephanopoulos, Supreme Court Justice David Souter, and actor Kris Kristofferson. To win the fellowship, candidates must obtain the backing of their university, submit a paper application, and -- if selected as a finalist -- dazzle a handful of former recipients at a reception and a formal interview the next day.