UPDATE: Simmons' tweets are incorrect. The Tiger Woods Foundation plans to support children's groups. Click here for more.
Tiger Woods is "doing something amazing," according to a tweet from Def Jam co-founder Russell Simmons. A follow-up tweet says, "I heard tiger woods donating to send a cargo plane with a mobile hospital out there. Keep our prayers high!" (Scroll down for screengrabs of the tweets.) Haiti, of course, is suffering from a tragic earthquake that has claimed between 45,000 and 50,000 lives, according to some estimates. (Here's how to help.)
If Simmons tweets are true, it would be similar to the advice Fox Sports and Kansas City Star sportswriter Jason Whitlock dispensed on Twitter last night: "if I'm Tiger, I park a big luxury liner off the coast of Haiti and me and Rachel Uchitel pass out $10 mil in bottled water."
Uchitel, of course, was the first woman publicly named as one of Woods' mistresses. The New York night club hostess (PHOTOS) was called a "celebrity whore" by an acquaintance, but she reportedly captured the golfer's heart: he allegedly wrote her an email saying "I finally found someone I connect with."
In another, more erotic email, Woods reportedly told her about his sex fantasy of her, Derek Jeter and Bones star David Boreanaz engaged in a steamy threesome. (The email used more colorful language.) Uchitel also reportedly received a payout of at least $1 million to ensure her silence.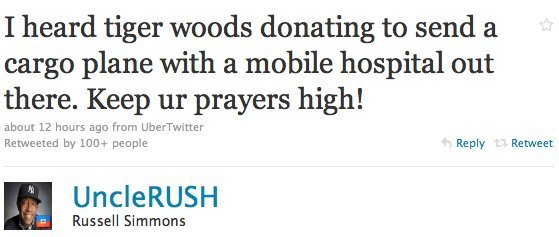 Women linked to Tiger Woods:
SUBSCRIBE TO & FOLLOW THE MORNING EMAIL
The Morning Email helps you start your workday with everything you need to know: breaking news, entertainment and a dash of fun. Learn more