Mandy Moore, Singer-songwriter, actress and PSI Ambassador: The earthquake that struck Haiti last week has left an already fragile nation in turmoil and it has put our lives bluntly in perspective. I've found myself glued to the news, as I'm sure we've all been, watching images of disaster flash across the screen. I'm sickened and heartbroken by the thought of the tens of thousands who have lost their lives and the millions more who are without even the most basic necessities. In good times, the people of Haiti had little...now they have nothing.
----
Jonathan Greenblatt, serial social entrepreneur: Aid is just starting to pour in. With the help of our ex-presidents and Hollywood, this surge hopefully will last for some time. And it should. Yet I believe the country can pull itself out of the current chaos and forge a new path forward, despite this rush of philanthropy rather than as a result.
This will not be easy. In fact, it could take generations. But it is essential that we and the West step forward to serve and help the Haitian people - yet do so by empowering the Haitian people with the tools to fulfill their own limitless potential.
----
Joe Berlinger, Filmmaker: For the past few months, I have been working on a film in Haiti with Wyclef Jean. The goal of the film was to bring the plight of Haiti to the world's attention through music. I was at the Hotel Montana, which now lies in ruin, only a few weeks ago, so I am struck with how easily I could have been one of the victims and am deeply saddened by the turn of events. While making the film, I was already shocked at the dire living conditions and lack of infrastructure that most Haitians had to endure even before this tragedy, particularly in the Port-au Prince slum of Cité Soleil. The situation is now catastrophic. The least that I could do was send out an email blast to entreat my friends and colleagues to support Wyclef's efforts in Haiti through his Yele foundation (www.yele.org). Perhaps the only silver lining in all of this is my hope and prayer that the world will band together and rebuild a country that has suffered too many tragedies and has been largely ignored by governments around the world. If we can spend billions "liberating" Iraq, then surely we can take this opportunity to give Haiti the dignity and the second chance it so richly deserves.
----
Nigel Barker, Photographer and judge on America's Next Top Model: Although the whole world is aware of the situation in Haiti since the earthquake on January 12th, what many people had no idea about was how dire things were in the country before the disaster. Haiti was the poorest country in the western hemisphere and now it may hold the world title. It is also only 45 minutes flight from the USA, a sobering fact when you remember how affluent we are.
About 2 years ago a party promoter, entrepreneur and Haitian friend of mine in NYC, who goes by the name of Unik, told me about his charity Edeyo. Unik was born in Haiti and came to the USA over a decade ago and has been a big splash in the fashion/club/party scene ever since. We had become friends over the years and his dedication to Haiti and his people seemed like a story that needed to be told. We planned in 2008 to go to Port Au Prince and report on exactly what we saw, what needed to be done and what was being accomplished.
----
Margaret Aguirre, Global Media Strategist for International Medical Corps: When I wrote this, it was 72 hours after the earthquake hit and I'm on the ground with our International Medical Corps team. We are set up in a mobile hospital in the parking lot of a collapsed hospital across from the Presidential Palace.
It is important for people in the U.S. and around the world to know the situation on the ground here -- and the most important fact is that time is of the essence. Most earthquake victims die within 3 days and without medical attention very treatable injuries become life-threatening.
That's the situation we are in right now.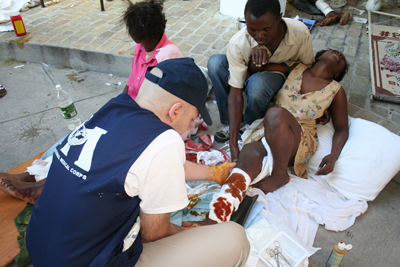 ----
Bessie A. Winn-Afeku, Social Entrepreneur: My heart aches for Haiti. My heart aches as I watch and hear the cries of men, women, and children pleading and begging for help, or just simply...a ladder to free someone from a hole. My prayer for the people of Haiti is simply restoration and sustainability.
----
George Weiner, Chief Technology Officer of DoSomething.org: We have woken up to Haiti, the poorest country in the western hemisphere. Though it took a disaster, I'm inspired by the ways in which every community and org are lifting together. Personally I am proud that DoSomething.org and Aéropostale are committing to sending 10,000 pairs of jeans for Haitian teens as they try to rebuild their lives. And I hope that relief continues beyond the emergency through orgs like CGI.
----
Tammy Tibbetts, Creator of ShestheFirst.org: The first I heard of the earthquake in Haiti was at 5:21pm on Jan. 12th, from my friend @charreah, a fellow twentysomething working in the magazine industry, on Twitter: 'oh no. 7.0 earthquake just hit Haiti. Sending up prayers'
Meanwhile, the first tweet about the quake from my news idol, @nytimes, was at 5:50pm and rather casually said: Haiti Quake Brings Hospital Collapse. @cnn first tweeted about the quake at 5:53pm.
Thus, this was the first time I realized I sort of am the prototype of Gen Y, truly getting my breaking news from friends, not the news media. My roommate, who also works in magazines, and I, don't even own a television. This is the first natural disaster and global tragedy that I've experienced solely through twitter and not through the nonstop, heart wrenching TV coverage that I remember watching in the aftermath of September 11, Hurricane Katrina, or the deadly 2004 tsunami.
What I discovered is that chilling images of the suffering aren't needed to win the empathy of my generation. Just seeing the tweets and RTs of friends who rallied their followers to donate online or via text was enough to make us want to be part of the relief effort.
I contributed to the relief efforts personally by donating to givehaitihope.org, the Haiti Outreach Program, which is a member of the She's the First network of education programs I created to help girls in the developing world find sponsors. I sponsored a girl in Haiti this Christmas on behalf of 10 of my friends. Her name is Roseméne, she's 12-years-old in the third grade, and she dreams of being a nurse, and because she lives in Boucan Carré, she survived the tragedy that struck those in Port-Au-Prince. If you choose to be part of the post-emergency relief efforts and help bring stability back to Haiti by supporting a student's education, I encourage you to visit shesthefirst.org.
This past week, we proved to ourselves that we can heal the world through digital and mobile technology (hopefully answering the 'I just don't get twitter' question once and for all). My hope is that we'll continue to flex our do-good social media muscles throughout the year, not just in response to an emergency, but in ongoing empathy.
----
Brian Center, Executive Director of A Better LA: The footage from Haiti is devastating. Everyone here, even people struggling with poverty and violence, have paused and want to help. Will Ferrell is hosting a show for my non-profit, A Better LA, February 20 at Nokia Theatre in LA and wanted to help Haiti in some way. So, this coming Friday, January 22, we are having a "Help Haiti - Buy One Get One Free Day." 100% of the proceeds from tickets sold that day will go to the Red Cross for Haiti relief. Tickets can be purchased through Ticketmaster, and there is a link on our website at www.abetterla.org.
Our thoughts and prayers are with the people of Haiti.
----
William Brindley, CEO and Executive Director of NetHope: Words cannot begin to describe the shock in the wake of this week's tragic events in Haiti. I know I am far from alone in feeling that way. What I can put into words at this time are my thoughts on how we can accelerate relief to those in need: By establishing a network by which humanitarian agencies in the region can communicate with each other and the outside world.
Our NetHope member agencies in Port-au-Prince have summed it up for me pretty starkly: Operating in Haiti right now is like responding to a disaster 5-10 years ago. With little or no infrastructure remaining, basic communication systems like phone and email are severely hampered, and the technology gains we in the Western world have benefited from in the past 10 years are virtually nonexistent in poverty-stricken Haiti.
----
Shira Lazar: There are no words to describe the devastation that has occurred. Footage and stories can bring tears to your eyes. Being in Los Angeles and New York, I tried to cover the story in any way I could. I reached out to people on the ground who I discovered online and on Twitter. I ended up getting in touch with American-Haitian blogger Catherine Laine, who after a day or so, was able to get an internet connection and log on to Skype. Catherine currently works with AIDG (Appropriate Infrastructure Development Group) in Cap Haitien, which is North of Haiti and only a few hours drive from Dominican border:
----
Jonathan Zeichner, Executive Director of A Place Called Home: Calamity is man's true touchstone. Another quote from Anonymous, who so often articulates the essence of what we are feeling, succinctly and with power.
The immediacy of communication and imagery from Haiti is another reminder that the planet is shrinking rapidly and, like that old Paul Simon song about one man's ceiling being another man's floor, we're all in this together. Rush Limbaugh notwithstanding, people of all skin shades are responding from their hearts - heck, even W is stepping up to make a difference, perhaps in ways he clearly didn't comprehend when Katrina hit home under his watch.
My son has cracked open his piggy bank, the kids at A Place Called Home are collecting change, thanks to Facebook, all my friends are sending shoes, and our Berry's and Trios are tapping out a Morse Code that translates to millions of dollars being directed to the need (credit card companies' karma TBD).
Like you, I am compelled by the need and moved by humanitarian response - it affirms my basic optimism about the human species and I have nothing pithy and biting to say - just thank you to all my brothers and sisters who are stepping up. But, we do all recognize the irony of sending massive aid after a disaster instead of sharing resources ahead of time to prevent or minimize one, right? (I heard an interview with the single earthquake building engineer in Haiti a couple of days ago.) We do all know that we are surrounded by and engaged in incremental human-made disasters that are preventable if we support education and nutrition and environmental sensitivity and nonviolent solutions at home and abroad, right? We do all know that for a fraction of what we spend killing each other, we could eliminate virtually all hunger, alleviate most disease, and repair and restore our planet's health, right?
We all live on different brinks - disasters waiting to happen. My two cents: Let's apply this same urgency to being Pre-Responders.