The Twitterverse is already abuzz with mocking the name of the latest Apple creation.
But did the secretive folks at Apple waited until the last minute to name their tablet iPad? Typing ipad.com leads you to a cancer-oriented site dedicated partly to the Memorial Sloan Kettering Cancer Center.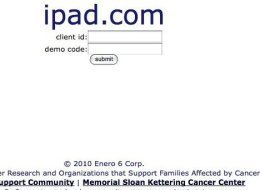 Interestingly, typing imac.com, ipod.com, itunes.com and iphone.com all lead to the main Apple site.
What happened?