UPDATE 2/8: The exhibit has opened in Budapest. The portrait entitled 'Portrait NS - Nicolas Sarkozy' and Portrait CBS -Carla Bruni Sarkozy (R)' are seen on February 7, 2010 in the 'Abigail' gallery of Budapest during the opening of their exhibition. The joint retrospective works exhibition entiltled 'Out of Mind' will be presented in Paris in April. The paintings are by Hungarian born Pal Sarkozy, father of French President Nicolas, and German artist Werner Hornung.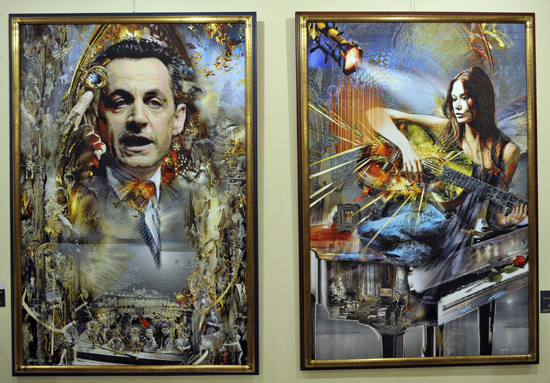 1/11:
Pal Sarkozy, father of French President Nicolas, will honor his daughter-in-law Carla with a large canvas painting as part of his upcoming show at the Espace Pierre Cardin in Paris, reports the Times UK. The tableau depicts Carla with her guitar, sitting on a piano, with Nicolas below at his desk.
"There is a rose on the piano as a symbol of the openness of Nicolas to the political left, but also an emblem of love," Pal explained in his description of the show.
Pal has credited his daughter-in-law Carla for patching up his relationship with his son, and he has called her an "adorable girl." He started painting before immigrating to Paris in 1948. He is considered a surrealist and has had exhibits in Hungary and Spain. His show in Paris will open in April.