Take your Twitter addiction to the next level with sneakers that will tweet each and every step you take.
The creators of the Rambler Twitter sneakers at Popkalab explain how the concept shoes work:
Rambler are a pair of sneakers that use the Twitter platform to literally microblog every step you take. [...] A sensor embedded under the sole detects when the wearer is walking. This information is sent via Bluetooth to a mobile phone that makes the postings on Twitter. When the sensor detects a certain amount of pressure, the word "step" is posted. For the other moments the "." symbol is posted. Following these postings one can know if the wearer is walking or not and also predict his speed.
The sneakers are intended to criticize the "massive amount of useless information that is spread over [Twitter]" by "posting literally every step you take in real life."
Here's an example of what Rambler will tweet: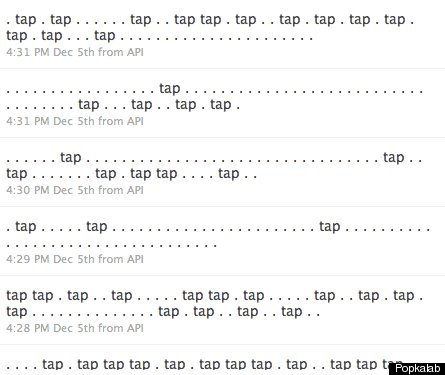 But serious Twitter users might like the device--what's your take?
See pictures of the sneakers below:
SUBSCRIBE TO & FOLLOW THE MORNING EMAIL
The Morning Email helps you start your workday with everything you need to know: breaking news, entertainment and a dash of fun. Learn more