"Miss Me Yet?" Nope. But we do miss the constant source of comedy that was the Bush Presidency. While we were a tad terrified by the billboard of George Bush waving at oncoming traffic, we were also tickled by its ridiculousness.
We decided to have some fun with it. We took out the weird "Miss Me Yet?" and replaced it with text of our own. And we want you to have some fun, too!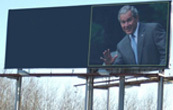 Download The JPEG Without Text Here


kramwest1:Saints won the Super Bowl so we're all good now New Orleans. Right?

slimpickins:Now you don't have to be the First Lady to have your boobs felt by a president.

starstarnite:republican have the shortest memories.

Netharian:So long suckers!

Amanda Molnar:Have you seen this man?

Netharian:No notes.

belwiffington:Every finger on this left hand knows what my right hand is doing. YEEHAW!

Anthony Caroto:Texas Clown College - register today

SteveAT:do the math

bilateralbow:It wont be long before it comes to this.

0dysseus:My fellow Americans, major painting operations on this billboard have ended.

earlybirdout:My Bad

jadedandhopey:What else is there to say?

theshecreature:Dumb and Dumber

edshrink:The force is strong with this one

mrjonzz:You'll have so much fun, you'll never want or be able to leave!

jpcline004:Bush loves himself some Hamburger Helper. Its the bomb!

ivanafort:"So easy, even he can do it"

Undercover:N.O.F.I.E.P needs your help! Don't let this tragedy happen to your country again.

Simha123:Last Seen at Dick Cheney's National Hunting Park

Kevin Pinkerton:K.I.S.S.

Lex10:http://www.glyphjockey.com

STYLE-n-ANGST:Bush Plays Celebrity Jeopardy!

ArthurTwoShedsJackson:No further commentary necessary.

markah:You should really drive with both feet.

Undercover:With thanks (or apologies) to Seth Green. Please don't sue me.

Chris DiAlfredi:You won't be bored--just wet!

phantomex:Happy 125th Birthday

AllShookUp:You can get in but you can't get out.

Orwell008:How'd Dat Dopey and Cheney Thing Work For Ya?

DJPaulV:And we all stepped in it

notKeith:These three things to remember

DJPaulV:Once a war criminal, always a war criminal...

HBD:A demonstration of how Dick Cheney operated the W puppet.