We are blogging the latest news about America's war in Afghanistan and Pakistan. Email us at AfPak [at] huffingtonpost.com. Follow Nico on Twitter; follow Nicholas on Twitter. See archives of 'At War' here.
Another Taliban leader captured in Pakistan. Newsweek's Sami Yousafzai and Mark Hosenball report that a second leader of the Taliban, identified as Mullah Abdul Salam, has been captured in a joint effort between Pakistan and the U.S.
Salam was apparently picked up by Pakistan security forces about a week ago in Faisalabad, around the same time that the Taliban's second in command, Mullah Abdul Ghani Baraader, was reportedly captured. More details from Newsweek here.
4:07 PM ET -- U.N. rejects 'militarization' of Afghan aid. Senior United Nations officials in Afghanistan say that UN agencies will "not participate in the military's reconstruction strategy in Marja as part of its current offensive there," the New York Times reports.
The issue in a nutshell:
Wael Haj-Ibrahim, head of the United Nations' Office for the Coordination of Humanitarian Affairs here, said the military should not be involved in providing health care or schools.

"If that aid is being delivered as part of a military strategy, the counterstrategy is to destroy that aid," Mr. Haj-Ibrahim said. "Allowing the military to do it is not the best use of resources." Instead, he said, the military should confine itself to clearing an area of security threats and providing security for humanitarian organizations to deliver services.

"The distribution of aid by the military gives a very difficult impression to the communities and puts the lives of humanitarian workers at risk," Mr. Watkins said.
The Times notes that U.S. Gen. Stanley McChrystal "has made the rapid delivery of governmental services, including education, health care and job programs, a central part of his strategy in Marja, referring to plans to rapidly deploy what he has referred to as 'a government in a box' once Marja is pacified."
4:03 PM ET -- The ghost town of Marjah. Some video from CNN:
4:01 PM ET -- Dutch likely to reduce troop presence. The Dutch Cabinet "was deadlocked Wednesday over extending the Netherlands' mission with NATO in Afghanistan, and it appears likely to reduce its 1,600 troop presence there," the AP reports.
Deputy Prime Minister Wouter Bos said his Labor Party will oppose a formal NATO request to remain in the restive southern province of Uruzgan. The Dutch mission ends in August.

The departure of the Netherlands would be a blow to hopes that NATO's European members will expand operations in Afghanistan before beginning to withdraw in 2011.

Prime Minister Jan Peter Balkenende and his Christian Democrats want to extend the mission for a year, possibly in reduced form.

But Bos' highly public stand Wednesday makes it unlikely without risking a political crisis that could bring down the coalition government.
3:40 PM ET -- The injured on both sides.
AP photo caption: "During a sporadic firefight, U.S. Marines guard a wounded and combative Taliban fighter, one of two captured minutes earlier, according to witnesses, during a U.S. Army Task Force Pegasus medevac mission, in Marjah, Helmand province, Afghanistan, Wednesday."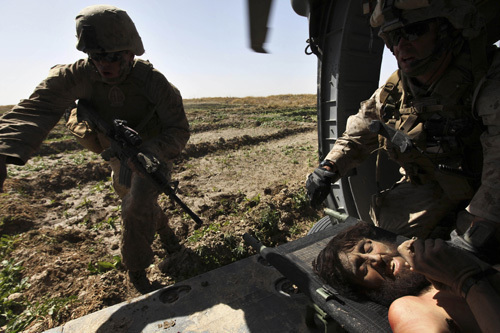 AP photo caption: "Airborne in a U.S. Army Task Force Pegasus helicopter, U.S. Army Crew Chief Spc. Timothy Johns, of Mitchell, S.D., gives medical care to an Afghan National Army soldier with a gunshot wound, during a medevac mission over Marjah, Helmand province, Afghanistan, Wednesday."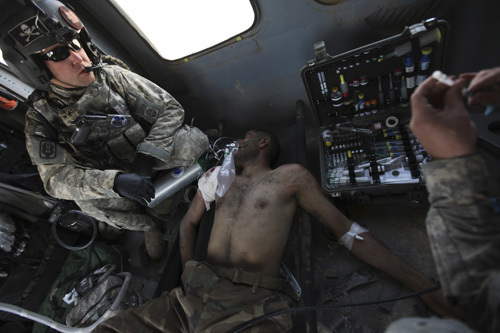 3:20 PM ET -- Marjah residents skeptical of NATO promises. Today in Marjah, coalition forces took down the Taliban's white flag across the area and replaced it with Afghanistan's official green-and-red one. It's a potent sign of the town's liberation from Taliban control. And yet, according to the AP, many of Marjah's residents are wary of NATO's promise to transform their village.
[F]or many, Taliban rule hasn't been all that bad. Plenty of Afghans have made a living off the opium trade, which also funds the insurgency. While some residents greet NATO forces with tea, others just want the troops to clear their streets of explosives and leave.

No one here needs liberating, they say.

"The Taliban didn't create any problems for people. Every Thursday there was a court session, and if someone had a problem, he would go in front of the Taliban mullah who was the judge," said Samad Khan, a 55-year-old poppy farmer in the village of Saipo on the outskirts of Marjah. The Islamist militant group levied a 10 percent yearly tax on his poppy crop, and let him be.
2:20 PM ET -- Britain's latest weapon. Britain's Ministry of Defense issued the following release about their latest weapon for fighting the Taliban, known as the Python rocket.
The Royal Engineers have fired their latest weapon in their battle against the Taliban for the first time - an exploding hose which punches safe passage through suspected IED belts.

The Python rocket is a trailer-mounted, rocket-propelled mine-clearing system pulled behind the Trojan armoured engineer tank. The Python system fires a snake of high explosives.

The detonation, across a suspected IED field in a dry river bed - wadi - north of Patrol Base Wahid, shook the ground either side of the detonation, and created a huge cloud several hundred metres high.
The weapon was fired for the first time in Afghanistan last Saturday, the London Times reports. The device is listed as 230 meters long. Watch a video of the weapon's impact on the Times' site.
Here's how one British sergeant described it: "It takes your breath away. You feel the vehicle rock, and in awe of what has just happened. You see the flash, hear the bang and then feel the shock wave."
2:10 PM ET -- Back in D.C. Obama discusses Afghanistan with his national security team in the Situation Room. Photo courtesy of the White House.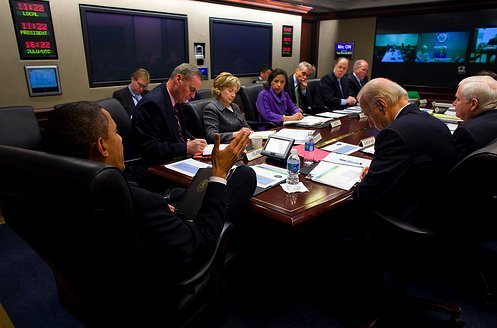 2:00 PM ET -- How Baradar was caught. Los Angeles Times reports that the arrest of the Taliban leader hinged on U.S. information in what amounted to a 'rare intelligence break.' However, the article doesn't really provide any details on what the big intelligence breakthrough consisted of, other than a U.S. official saying that, "Fortune played a role."
9:40 AM ET -- What Baradar's arrest means for Pakistan. A potential strategic coup, writes the New York Times: "Pakistan has removed a key Taliban commander, enhanced cooperation with the United States and ensured a place for itself when parties explore a negotiated end to the Afghan war."
The Times' take follows on its report last week that Pakistan had signaled to the U.S. that it wanted to play a greater role in U.S. and Afghan efforts to negotiate some form of reconciliation with the Taliban.
9:30 AM ET -- Marjah's government office seized by coalition forces. U.S. Marines and Afghan soldiers secured the former police station as well as ruined government center in Marjah, the Journal reports, thus laying the groundwork for the Afghan government to attempt to establish control over the Taliban stronghold.
9:20 AM ET -- Baradar's arrest confirmed. For the record, Pakistan confirmed the arrest for the first time Wednesday.
9:00 AM ET -- Taliban using human shields. AP reports on a particularly gruesome Taliban tactic:
Taliban insurgents are increasingly using civilians as human shields as they fight allied troops trying to take the militants' southern stronghold of Marjah, an Afghan official said Wednesday as military squads resumed painstaking house-to-house searches.[...]

With the assault in its fifth day, insurgents are firing at Afghan troops from inside or next to compounds where women and children appear to have been ordered to stand on a roof or in a window, said Gen. Mohiudin Ghori, the brigade commander for Afghan troops in Marjah.

"Especially in the south of Marjah, the enemy is fighting from compounds where soldiers can very clearly see women or children on the roof or in a second-floor or third-floor window," Ghori said. "They are trying to get us to fire on them and kill the civilians."
SUBSCRIBE TO & FOLLOW WORLD POST