When David Shuster posted his controversial tweets to conservative activist/journalist James O'Keefe last month, MSNBC called them "inappropriate." But did they also order the dayside anchor off Twitter?
On January 26, Shuster tweeted at O'Keefe, "@JamesOKeefeIII a) you are not a journalist b) the truth is you intended to tap her phones c) it's a felony d) you will go to prison."
Two days later, on January 28th, MSNBC told Politico that Shuster's comments were "inappropriate" and added, "We have talked to David about them."
But Shuster, once an active Twitter user, hadn't posted anything since January 27, leading some to wonder if he had been muzzled by the network. Tuesday night, what appears to be a private message gone awry all but confirms the news.
"Thanks shag. I hope to get the green light to twitter again soon. Cheers. d" reads one message, since-deleted.
"Thankyou. I appreciate it. I'm hoping mgmt will revisit the twitter issue soon. Thx again 4 your support," reads another.
MSNBC has thus far refused to comment on Shuster's Twitter silence.
Two different screengrabs of the deleted tweets:
Via Mediaite: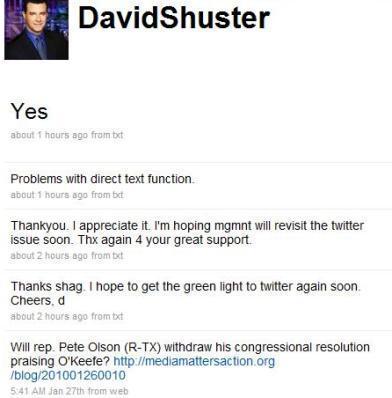 Via Johnny Dollar: