One in five eligible homeowners has received the kind of long-lasting relief promised by the Obama administration's signature foreclosure-prevention initiative, Treasury Department figures released Wednesday show.
While that number has steadily improved over the last few months, the data reveals some disturbing trends.
As of Jan. 31, nearly 116,300 troubled homeowners have transitioned from trial plans that temporarily reduced their monthly mortgage payments into permanently modified mortgages. The median savings has been about $520 a month.
Another 76,482 have been offered permanent payment reductions but have yet to sign off. The share of eligible homeowners that have been offered permanent modifications has nearly tripled, rising from 12 percent in November 2009 to 35 percent in January.
In October, Herbert M. Allison Jr., the Treasury Department's assistant secretary for financial stability, told the panel that Treasury had internally forecast that "up to 75 percent" of trial modifications would achieve permanent status.
But with another 754,000 homeowners enrolled in temporary plans, nearly three out of five homeowners eligible for the Home Affordable Modification Program have received at least temporary help in staving off foreclosure. "HAMP is doing the job it was designed to do," Phyllis Caldwell, chief of Treasury's Homeownership Preservation Office, said in a statement. "Struggling families are receiving payment relief and the housing market is showing signs of stabilization."
A part of the administration's $75 billion Making Home Affordable program, HAMP was intended to help up to 4 million distressed homeowners avoid foreclosure through taxpayer-funded payments to lenders, mortgage investors, servicers and homeowners.
But the program has been beset with problems since its launch one year ago. Housing experts and mortgage bond analysts have begun to openly question its effectiveness. Many are calling for a new approach. Treasury Department data has not been encouraging.
Servicers are offering homeowners fewer trial modifications and, as a result, fewer homeowners are entering the program. The 105,430 trial mods offered in January is the lowest number of offers in a month since May, the month the program got off the ground, Treasury figures show. It's a 20 percent decrease from December, and a 43 percent decrease from its peak in September. The average number of offers over the last three months (November-January) is down by a third versus the previous three-month period (August-October), the data show.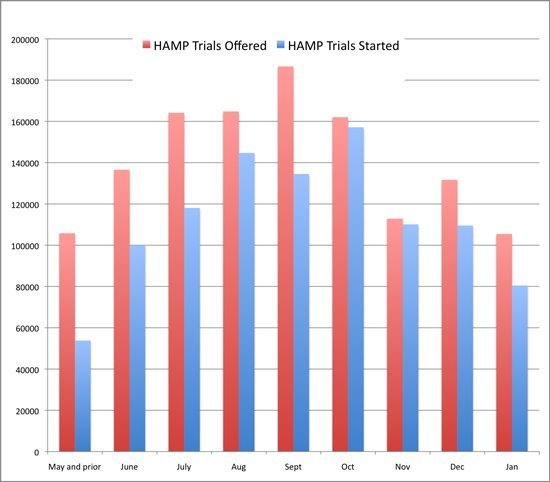 Source: Treasury Department
The number of new homeowners securing trial modifications in January was the lowest total since May. The January total is down 27 percent from the previous month, and it's about half of October's total, according to Treasury statistics.
And while the share of eligible homeowners who have converted into permanent modifications has been on the rise, it hasn't kept up with the bigger increases in the number of newly eligible borrowers.
In January, 80,258 homeowners were offered permanent modifications, according to the Treasury Department. But an additional 134,499 homeowners became eligible for permanent mods that month.
In December, 81,139 borrowers were offered permanent modifications. But 144,706 additional homeowners became eligible for them, according to Treasury figures.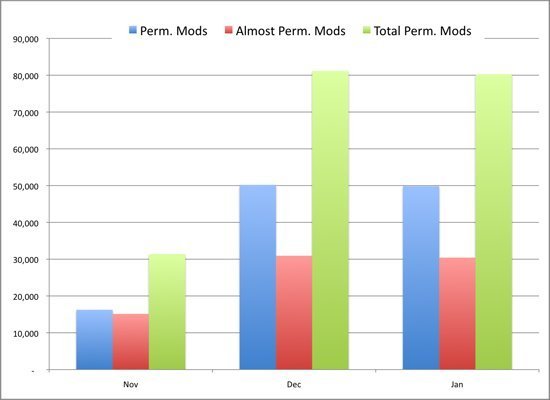 Source: Treasury Department
Both months were an improvement over November, when roughly 31,400 homeowners had been offered permanent mods, half of which were at the time awaiting borrower acceptance.
These permanent modification totals don't include the 1,005 permanent modifications that have been canceled. No immediate reason was given for the cancellations.
But even those gains in permanent modifications could be temporary.
As many as 500,000 homeowners are in danger of being bounced out of the program because of paperwork problems, said Richard H. Neiman, New York's top bank regulator and a member of the Congressional Oversight Panel, the bailout watchdog.
The Treasury Department set a Jan. 31 deadline for homeowners in trial modifications who are eligible for permanent relief to submit the required paperwork. State regulators like Neiman warned last month that unless documentation requirements were eased, these homeowners were at risk of being kicked out.
Neiman, like others, said next month's data should provide a clearer picture into the effectiveness of the administration's efforts.
"I don't think [HAMP] is going to stop the large number of foreclosures coming onto the market in the next few quarters," said Celia Chen, a senior director at Moody's Economy.com who covers the housing market. "[HAMP] has been helpful on the margins in the sense that something is better than nothing."
That "something," though, isn't working as well as many economists, housing advocates and federal and state officials had initially hoped.
SUBSCRIBE TO & FOLLOW THE MORNING EMAIL
The Morning Email helps you start your workday with everything you need to know: breaking news, entertainment and a dash of fun. Learn more