Sawyer said that she appreciates cable news networks for what they are, and she had nice words about Rachel Maddow (and Fox News chief Roger Ailes) in the web extra interview:
I think [cable news networks] are invigorating the debate. I really do. I think Roger Ailes, who runs Fox News, is smart as a whip. And I think Rachel Maddow on MSNBC is great television. I love the expression of personality that cable invites. I think we learn in lots of different ways. Sometimes we learn straight down the middle and sometimes we learn through the dialectic. When Fox and MSNBC are going back and forth we can learn a lot.
Sawyer said she believes her role is witness, not commentator, which is why she prefers working on broadcast versus cable.
"You have to believe your first job is to be a powerful witness," she said in the article, describing her recent time in Haiti. "I say powerful in the sense that there are 500 people in front of you who need water, and all you want to do is drop everything and go get them water. But you have to remember your job is to help get water for 5 million people--for your heart will soon break if you don't believe that you can do something for everybody. You say to yourself, 'I will turn your pain into purpose. I will try to turn your pain into a fulcrum that moves the world to help.'"
As for Nixon, whose administration she worked for and whose memoirs she helped write, Sawyer said she felt a "sense of duty" to the disgraced President after he left office.
"I had a sense of duty," she said of working in exile with the former President on his memoirs. "I felt you don't get to choose just being there in the celebrated times and then get to walk away when someone is living in defeat. And no matter how they got there and how punishing it was along the way and how bruising it was for American politics, I just don't think that's the person I can be."
She added that Nixon did not trust journalists but was interested in them, and did not think she betrayed him when she returned to the industry:
"I think he thought that, institutionally, journalists - and I think you can argue with some cause - were not going to be on his side, for a number of reasons, not just political ones. He just didn't have the easily accessed charm that journalists love so. If you read his diaries, he writes at one point about John Kennedy and what it must have been like to be John Kennedy and walk into a room and take it over. He was much more of an interior person who had to will himself in some ways to be a public person. I don't think it was about my having gone to join the dark side or the enemy. I think it was more than anything I was someone he knew and understood who could bring him word back about this other craft was like.


Read the full article at Parade.com, read the web extra interview here, and see the cover of the magazine (which will come in Sunday's newspaper) below: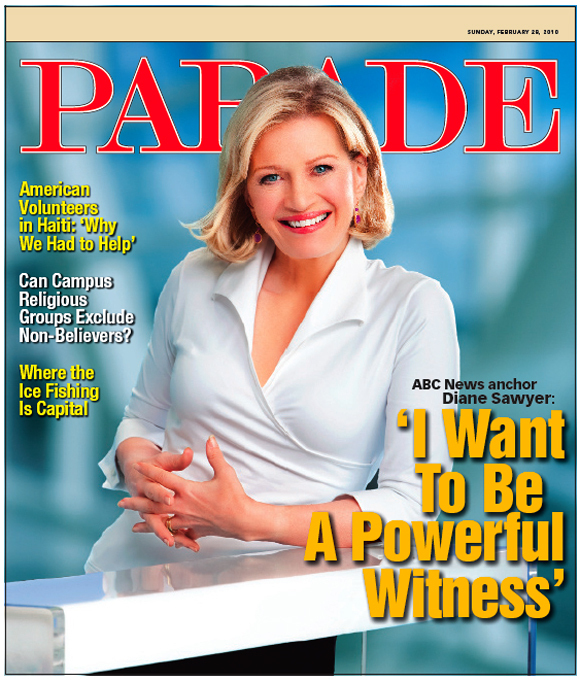 SUBSCRIBE TO & FOLLOW TRUMP'S FIRST 100 DAYS
How will Donald Trump's first 100 days impact YOU? Subscribe, choose the community that you most identify with or want to learn more about and we'll send you the news that matters most once a week throughout Trump's first 100 days in office. Learn more